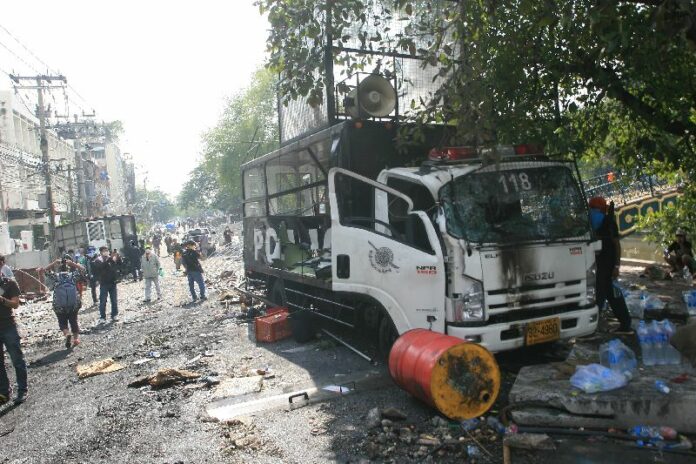 (3 December) Thailand′s tourism industry is expected to lose over 25 billion baht in revenues due to the prolonged protests against Prime Minister Yingluck Shinawatra, which turned violent in recent days.
Ms. Piyaman Techapaiboon, President of the Tourism Council of Thailand (ICT), said on Monday in the meeting with 6 other financial organisations that number of tourists is expected to fall 8-10% in December.
The falling number, which resulted in 500,000 tourists approximately, was revealed after 68 countries issued warnings to their citizens about the current political clashes in Thailand. However, in November 2013 alone, the country welcomed 11% more tourists than it had last year.
Prior to the political crisis, Thailand was originally projected to welcome 21.6 million tourists to bring in 1.18 trillion baht in 2013.
During the same meeting, a statement demanding every party to solve the current political crisis in a peaceful and democratic way was also announced by the attending 7 organisations.
The 7 organisations were the Thai Chamber of Commerce (TCC), The Federation of Thai Industries (FTI), The Thai Bankers Association (TBA), Tourism Council of Thailand (TCT) , Federation of Thai Capital Market Organisations (FETCO), The Stock Exchange of Thailand (SET) and Thai Listed Company Association (ThaiLCA).
"The current political situation had harmed our economy and social structure. It had also harmed investors' confidence in trade, industry, consumption, tourism and investment," the statement reads.
"We, representing the public sector, demand every party to stop the conflict and to stop any movement that may lead to further destruction. The current situation had resulted on the loss of lives, properties and national economy. It may as well continue to escalate without an end" said Mr. Isara Vongkusolkit, representative from the TCC.
Mr. Phayungsak Chatsuthiphon, Chaiman of the Federation of Thai Industries (FTI), commented that the political turmoil had worsened the economy more that the floods in 2011, as it laid bare the problems in Thai politics and social structure.
Many investors expressed their uncertainty to invest in a country where rule of law is ineffective, and tend to hold their investment in Thailand or move to other countries, said Mr. Phayingsak, who additionally warned that Thailand's competitiveness could fall behind its ASEAN counterparts, namely, Indonesia, Vietnam and even Myanmar.
Bangkok has also seen a decrease of foreign tourists arriving at Suvarnabhumi Airport in November and early Devember, said Mr. Somsak Pureesrisak, Minister of Tourism and Sport.
Currently, the nation's main airport is receiving 49,000 tourists a day, 1,000 less than its usual time. Moreover, many tourists arriving at the airport also tend to board another plane to other tourists destination, for instance, Chiang Mai and Phuket, to avoid the chaos in Bangkok.
However, the Tourism and Sport Minister said they need to monitor the situation a little longer before they can conclude how the situation would end. He added that he feared Thailand may experience falling popularity among foreigners if the political crisis is not solved in timely manner.
"We have instructed the Ministry's permanent secretary to appoint every organisation, particularly the Tourism Authority of Thailand (TAT) to support tourists facing any domestic problems, including the political turmoil," said Mr. Somsak, "TAT also has, on its website, an explanation and information regarding the protests"
The TAT is providing 24 hour a day services for coordination among different agencies and information for visitors, Mr. Somsak added.
For comments, or corrections to this article please contact: [email protected]
You can also find Khaosod English on Twitter and Facebook
http://twitter.com/KhaosodEnglish
http://www.facebook.com/KhaosodEnglish