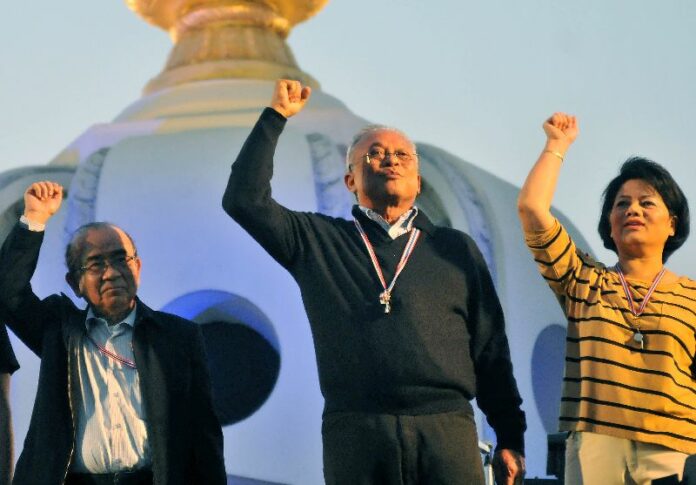 (4 January) The anti-government protesters? plan to "shutdown" Bangkok on 13 January may cost the country enormous economic damages, deputy president of the Federation of Thai Industry (FTI) has warned.
Since Bangkok serves as the headquarters for many Thai and Southeast Asian businesses, any prolonged disruption in the city would greatly harm the economy in the short and long term, Mr. Kriangkrai Thiannukul said.
According to Mr. Kriangkrai, many foreign investors are considering to transfer their investments to Thailand's neighbouring countries to avoid the ongoing political turmoil. Many of them are also aware of possible escalation of the crisis and are turning toward other suppliers in other countries.
"Private sector is preparing to handle the Bangkok's shutdown by moving their offices outside of Bangkok temporarily, and conducting their shipments at other ports and airports outside of Bangkok", said Mr. Kriangsak.
FTI Deputy President also stressed that Thai Private Sector is demanding the People′s Committee for Absolute Democracy With the King As Head of State (PCAD) and the government to engage in peaceful dialogue about the future of the country.
Mr. Kriangkai added that the private sector will hold a meeting regarding the current situation next week.
"We are ready to be a mediator for the government and the anti-government groups. This should yield a better solution instead of shutting down the capital city", he said.
Mr. Kriangkrai emphasises that if the situation is escalated, the country will be damaged on a catastrophic scale.
"The University of Thai Chamber of Commerce has predicted that the turmoil would cost the country economic loss of approximately 20 billion baht", Mr. Kriangkrai told reporters , "If violence took place, we believe it will be even a greater loss."
FTI has not yet evaluated the possible economic damage, but he believes that the number should be no less than 10 billions baht, Mr. Kriangkai added.
For comments, or corrections to this article please contact: [email protected]
You can also find Khaosod English on Twitter and Facebook
http://twitter.com/KhaosodEnglish
http://www.facebook.com/KhaosodEnglish