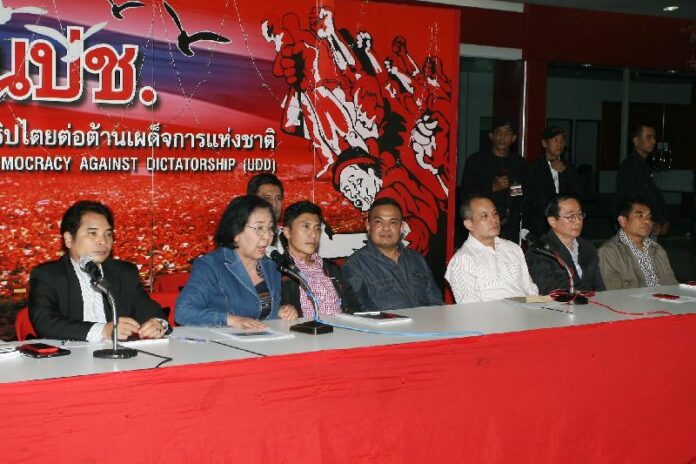 (3 January) The planned nationwide rallies called by the Redshirts will not include Bangkok and its immediate neighbouring provinces, the leaders of the movements have confirmed.
The United Front of Democracy Against Dictatorship (UDD) has previously unveiled a plan to stage counter-protests on 13 January, the same day anti-government protesters led by People′s Committee for Absolute Democracy With the King As Head of State (PCAD) would begin their "shutdown" of Bangkok.
In a press conference yesterday, co-leader of the UDD, Mr. Jatupon Prompan, said the Redshirts would not stand idly by while the PCAD takes the capital city and the entire country hostage. He named the UDD′s responses to Bangkok′s shutdown as a way to help "open up Thailand" from PCAD′s grips.
The UDD′s announcement has raised fears that serious confrontation could take place on 13 January, similar to the Redshirts? previous Bangkok rally in Ramkhamhaeng district in which clashes erupted between the Redshirts and anti-government protesters.
Three Redshirts and one anti-government protester had been shot dead by unidentified individuals during the mayhem on 30 November – 1 December.
But Mr. Nattawut Saikua, a prominent leader of the UDD, clarified the plan to "open up Thailand" today, stressing that local UDD chapters in each province would organise nationwide demonstrations on 13 January except Bangkok and its perimeter provinces such as Nonthaburi, Samut Prakarn, and Pathum Thani, in order to avoid any clashes with the PCAD.
Mr. Nattawut also implied that southern provinces – traditional stronghold of the Democrat Party – will not be included in the plan either.
The activities on 13 January will feature demonstration, performance of local cultures, and speeches on rally stages, according to Mr. Nattawut. He added that Redshirts do not have to wear red shirts to the events, citing security concerns.
"We are concerned with safety and peace in this rally," Mr. Nattawut said, stating that Redshirts in Bangkok area should travel to outer provinces for the rallies in stead of organising one on their own. He insisted that the protests on 13 January will be conducted in peaceful and friendly manner.
However, Mr. Nattawut warned that UDD members across the country – Bangkok included – are prepared to respond immediately to any military coup.
"If signs of a coup is apparent, we will use ?blooming flower? tactics in the urban area," said the UDD leader, "There won?t be calls to stop fighting. There will only be calls to fight".
He continued, "I invite every Thai in this country, every party, every politician, celebrity, professional of all careers, to prepare their body and mind to engage in peaceful assembly, for the equal rights of one person one vote".
Furthermore, according to Mr. Nattawut, the UDD will submit letters to each foreign embassy in Thailand with details about their activities on 13 January.
For comments, or corrections to this article please contact: [email protected]
You can also find Khaosod English on Twitter and Facebook
http://twitter.com/KhaosodEnglish
http://www.facebook.com/KhaosodEnglish