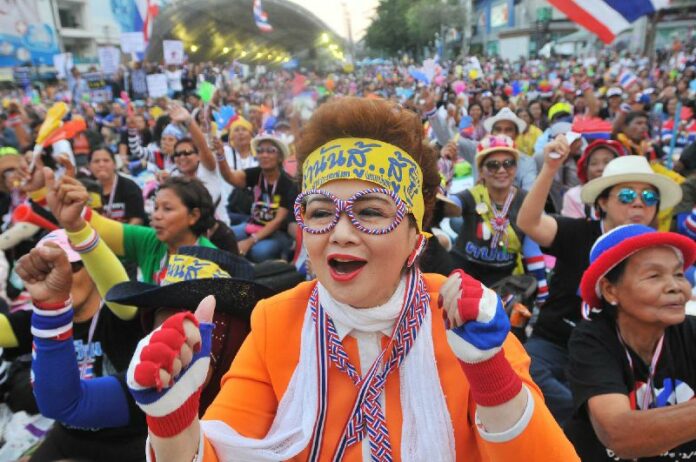 (17 January) The Thai Industries Sentiment Index (TISI) has hit a 25 month low at 88.3 amid the ongoing political protests.
According to Mr. Phayungsak Chatsuthiphon, President of the Federation of Thai Industires (FTI), the drop reflects concerns felt by many businesses that prolonged political crisis could gravely harm Thai economy.
The TISI figure of 88.3 corresponds to the period of December 2013, and it has fallen from 90.3 in November 2013, Mr. Phayungsak said, adding that he fears the number could keep plunging down due to worries that the conflict may not be resolved in the near future.
The statistic, which was taken from 1,025 samples in 42 industries, also revealed that the entrepreneurs are experiencing a decline in domestic spending, and withholding orders from their foreign counterparts, as well as an increasing cost of production.
3 months sentimental index also falls to 100.9 point, slightly below 101.4 point in Novermber 2013, as many investors are assessing the impact of the current political crisis, which pits the government of Prime Minister Yingluck Shinawatra against protests led by People′s Committee for Absolute Democracy With the King As Head of State (PCAD).
"Many businesses, especially in motor industries, are readjusting their plans concerning the current unstable situation in the country," Mr. Phayungsak said, "It is also obvious that there are the declines of domestic consumption, private sector investment and imports of raw material",
He added, "Thai economy in Q1/2014 is not looking great."
Mr. Phayungsak also noted that PCAD′s "shutdown" of Bangkok in the past three days might not have severely harmed the economy, but it could cause severely affect the economy if it lasted more than a week.
Meanwhile, Mr. Surapong Paisitpattanaphong, Deputy President and Spokesperson of FTI, said motor industry had produced 158,893 cars in December 2013, which is the lowest rate in 20 months.
Compared with the same time last year, the production had decreased by 28.22%, whereas the statistic from November 2013 shows 13.09% declination during the end of year 2013.
The annual production have also been disappointing, producing only 2,475,086 cars, 2.55 million less than expected, he added.
"We have missed out our target for nearly 100,000 cars, partly due to the government′s "first car" scheme," Mr. Surapong complained, referring to the populist policy which offers tax break for first time purchasers of cars, "However, concerning our competitiveness as a car exporter, we have reached No. 9 in global stage."
As for the outlook for 2014, considering the political and economic factors, motor industry might produce no more than 2.5 million cars, said Mr. Surapong.
For comments, or corrections to this article please contact: [email protected]
You can also find Khaosod English on Twitter and Facebook
http://twitter.com/KhaosodEnglish
http://www.facebook.com/KhaosodEnglish