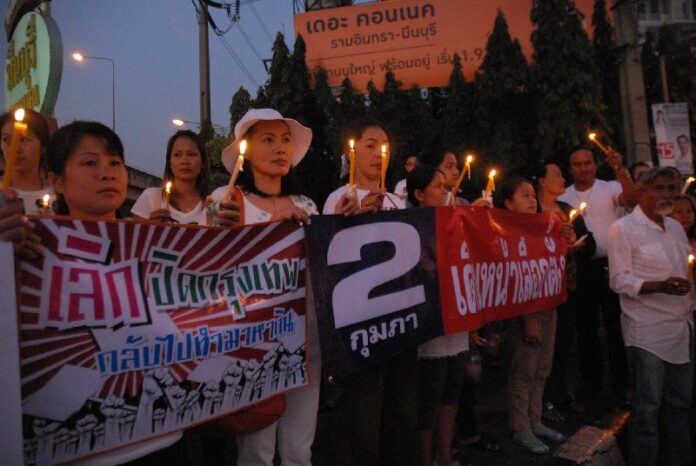 (17 January) Some supporters of 2 February election have welcomed the result of the latest lottery draw.
Although 52 is the the official winning number in the two-digit category, the hugely popular underground lottery market across the country also recognise 02 as the winning number for the said category, since the "unofficial" market adopts the last 2 digits of the first prize number, which is 306902 in this case.
The number has drawn much attention since it appears to coincide with the date of the 2 February election. The draw also came amid the ongoing campaigns by anti-government protesters to cancel the 2 February election and install an unelected ′People′s Council′ to rule Thailand.
Lottery is massive business in Thailand, where many also claim that lottery results can contain divine or ominous meanings.
However, Pol.Maj.Gen. Attakrit Thareechat, director of the Government Lottery Office, said the public should not make any connection between the election and the 02 lotto number.
"Any number can turn up, from 0-9," Pol.Maj.Gen. Attakrit explained, "Please don′t assume the result has been ′locked′ to represent the election date".
He added, "The lottery draw was conducted in a transparent and fair manner. Furthermore, outside observers also oversee each lottery draw".
Asked whether the lottery operation would be affected by ongoing "Bangkok Shutdown" engineered by People′s Committee for Absolute Democracy With the King As Head of State (PCAD), Pol.Maj.Gen. Attakrit said the Office has already prepared a back-up system in case of prolonged mass protests.
"The distribution of lottery will continue smoothly," he said.
For comments, or corrections to this article please contact: [email protected]
You can also find Khaosod English on Twitter and Facebook
http://twitter.com/KhaosodEnglish
http://www.facebook.com/KhaosodEnglish