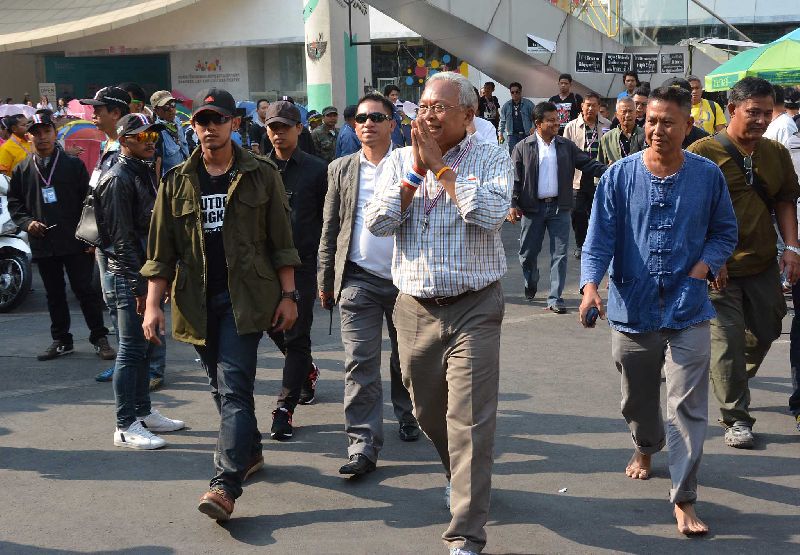 (28 January) Restaurants and other venues would have to inevitably cut jobs due to the ongoing political crisis , experts have warned.
Ms. Taniwan Kulamongol, President of Thai Restaurant Association (TRA), stated that since the government announced the State of Emergency on 22 January in response to the spree of political violence, restaurants nationwide have suffered an initial loss of nearly 300 million baht.
10,000 out of 30,000 TRA members are located in Bangkok and its perimeters, and have been affected by the political situation, Ms. Taniwan said.
She warned that if the conflict prolongs with no peaceful resolution in sight, many restaurants will need to cut jobs, particularly the waiting staff, as cash flows have been drained within the period of three months.
Mr.Sa-nga Rueangwattanaul, President of Khaosarn Road Business Association (KRBA), added that since the anti-government protests broke out in November 2013, the revenue of several businesses have decreased approximately 40-50%, and the booking rate for hotel and guesthouses in the famed backpacker street has dropped by 50%.
The enforcement of the Emergency Decree also worsened the declining income for these businesses, Mr. Sa-nga said.
The loss in revenue may eventually prompt businesses to dismiss their part time workers, as well as forcing full time workers to be put on holiday leave with less than normal wage, according to Mr. Sa-nga.
The President of KRBA also warned that if the situation does not end by February, even more employees in many establishments would be "indefinitely" suspended altogether, which may affect no less than 10,000 workers in the area.
Meanwhile, Central Plaza Hotel Public Company Limited (CENTEL) Senior Manager, Mr. Ronnachit Mahatthanaprit, also commented that CENTEL had eliminated all part time positions, and had transferred some of full time staffs to other tourist attractions such as Hua Hin, Pattaya, Phuket.
The situation is a grave contrast to the tourist ′peak time′ period of previous years, in which CENTEL would usually hire 30% extra staff for part time positions, Mr. Ronnachit said.
For comments, or corrections to this article please contact: [email protected]
You can also find Khaosod English on Twitter and Facebook
http://twitter.com/KhaosodEnglish
http://www.facebook.com/KhaosodEnglish