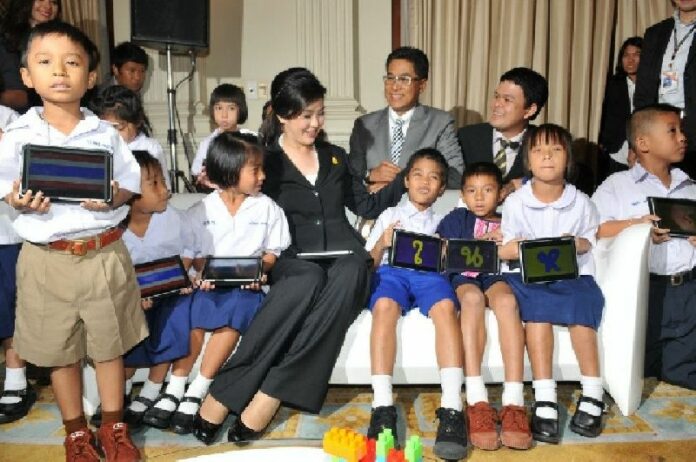 (5 February) The government's plan to equip every school pupil with a tablet computer has been put on hold, as a Chinese supplier terminated the contract with the Thai authorities.
Mr. Chaturon Chaisaeng, the Minister of Education, made the announcement.
The China-based Shenzhen Yitao Intelligence Control Co. has previously won the auction to distribute more than 800,000 tablets to school students in Prathom 1 and Matthayom 1 who were enrolled in 2013 academic year, at the cost of over 1.5 billion baht.
However, the company has repeatedly delayed the delivery of the tablets, reportedly resulting in a fine to the Ministry of Education for at least 2 million baht.
On 30 January, the Chinese company eventually submitted a letter expressing their intention to terminate the deal with the Thai government, citing political instability in Thailand, misunderstanding of the contract and terms of reference, as well as communication problems, Mr. Chaturon said.
It is yet another blow to the populist policies pursued by Prime Minister Yingluck Shinawatra. Yesterday, China also cancelled a deal with Thailand which would help the kingdom sell tonnes of rice collected under the rice-pledging program.
Mr. Chaturon said the officials are considering to sue the Chinese tablet company for compensation for the losses in the present deal and further auction, but he stressed that the compensation will not be enough to make up for the lost opportunities of millions of Thai students.
"The compensation money cannot make up for the loss, as many students missed the chance to use the carry-on computer," Mr. Chaturon complained, "This is a lesson learned. I admit that the auction was problematic, and the procedure needs to be tailored before the next round starts".
MOE will also move to impound 120 million baht security deposit, which the company had yielded when the contract was signed. It is expected that the company would appeal for its deposit money Mr. Chaturon added.
Nevertheless, Mr. Chaturon expressed his confidence that the government will continue to strive to provide school children with tablet computers as promised in the 2011 election season.
He claimed that students who missed the opportunity to get their tablets this year will eventually receive the gadgets by next academic year.
For comments, or corrections to this article please contact: [email protected]
You can also find Khaosod English on Twitter and Facebook
http://twitter.com/KhaosodEnglish
http://www.facebook.com/KhaosodEnglish