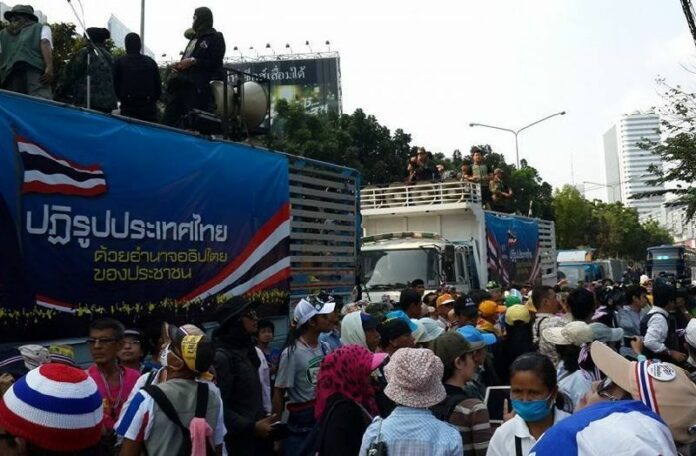 (6 March) Anti-government protesters have rallied in front of the Chinese embassy in Bangkok to protest the recently-agreed rice deal between Thailand and China.
The Thai government announced yesterday that the kingdom has secured an agreement to sell 1 million tonnes of rice under the rice mortgage scheme to a state enterprise agency in China called COFCO Corporation.
The agreement reportedly details that the first batch of rice – 400,000 tonnes – will be shipped between March and July.
The government of Prime Minister Yingluck Shinawatra has been facing immense criticism over its rice-pledging program. The Thai government has been desperately seeking buyer for millions of tonnes of rice stored in numerous silos across the country.
It is unclear whether the deal would survive scrutiny of the state anti-corruption agencies. A previous announcement by Ms. Yingluck's government that Thailand would sell rice under "government-to-government" scheme (G2G) to a Chinese state agency last year has been recently labelled as a bogus claim by the National Anti-Corruption Commisssion (NACC).
Today, supporters of the People's Committee for Absolute Democracy With the King As Head of State (PCAD) also marched to the Embassy of People's Republic of China in Bangkok to voice their displeasure with the news that China will buy rice from Ms. Yingluck's controversial program.
The protesters also claimed that they want to inform the Chinese government of a separatist movement in Thailand which aims to secede pro-government provinces, and to urge the Chinese not to support such movements.
PCAD protesters later dispersed from the Embassy without any violent incident.
Nevertheless, their rally was criticised by Deputy Prime Minister Surapong Tovichakchaikul, who also serves as Minister of Foreign Affairs.
"I don't want them to organise a protest like that, because the Chinese want to buy Thai rice out of their desire to help Thai farmers," Mr. Surapong said.
He also expressed his belief that the Chinese authorities have been aware of PCAD's previous attempts to disrupt the payment to farmers under the scheme by blocking a number of banks which were slated to provide loans for the government's rice payment funds.