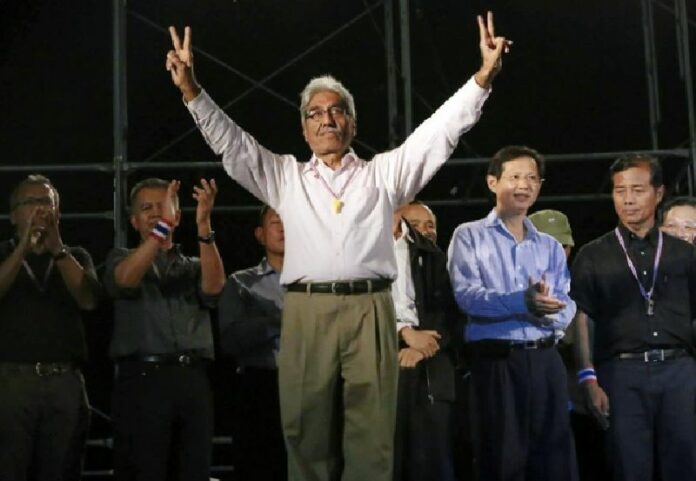 (6 March) India-born anti-government activist has appealed to His Majesty the King to overrule the government's effort to have him deported.
The Centre for Maintaining of Peace and Order (CMPO) has previously vowed to pursue a deportation process against Mr. Satit Segal, a prominent businessman and a core leader of the People's Committee for Absolute Democracy With the King As Head of State (PCAD).
According to the CMPO, Mr. Satit has violated the emergency decree, which bans all political gathering, by engaging in anti-government campaigns alongside other PCAD leaders. The CMPO also warned that other foreigners who joined the protests might face similar action.
Mr. Satit has repeatedly insisted that although he never official received the Thai citizenship, he has been residing in Thailand for decades and no state agency has ever taken action against him in the past.
The Indian Embassy today confirmed to our correspondent that the CMPO has finalised its procedure to revoke Mr. Satit's rights of abode in Thailand. In theory, the police can now arrest Mr. Satit and promptly deport him to India.
As a response to the development, Mr. Satit has appointed his lawyer to file a royal petition to His Majesty the King at the Royal Household Bureau at around 09.00 today.
The petition calls for His Majesty the King to bestow clemency upon the India-born activist and suspend his deportation notice.
The lawyer was accompanied by Mr. Satit's brother, Mr. Arthit Segal. He said his brother could not file the petition himself today due to security concerns.
Mr. Arthit stresed that Mr. Satit has been a loyal subject of the Thai monarchy, and his political activism is driven by his desire to honour the monarchy.
"My family, especially my 90 years old mother, is very saddened by what is going on," Mr. Arthit said.
He also claimed that Mr. Satit has never received any summon or notice of his alleged wrongdoing by any state agencies, including the CMPO.
Mr. Satit's lawyer added that Mr. Thaworn Senniam, a PCAD core leader, will take legal action against the CMPO for its effort to deport Mr. Satit.
Meanwhile, CMPO chaiman, Mr. Chalerm Yoobamrung, declined to comment about Mr. Satit's royal petition, but insisted that his agency is bound by duties to prosecute Mr. Satit for his involvement in the ongoing protests.
"If he didn't do anything, why would I sign his deportation order?" Mr. Chalerm told reporters, adding that he has no personal grudge toward the India-born businessman.
"I don't even personally know him," Mr. Chalerm said.