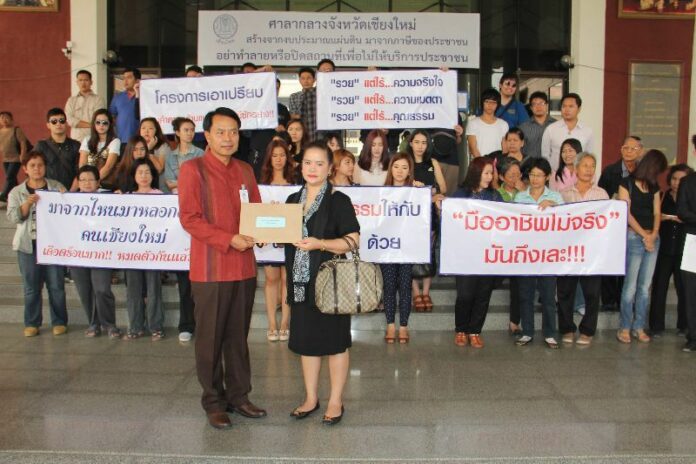 (11 March) Over 100 shop owners and vendors have gathered at Chiang Mai City Hall to seek the authorities' help in mediating the dispute concerning their rent deal at a now-defunct commercial project.
Ms. Kittinya Witthayanin, the leader of the protesters, said she and fellow demonstrators were tenants at The Harbour, a commercial high-end arcade in Mueang district of the province.
She said she was persuaded by the developers of the project to open her shop at The Harbour in February 2013 after they have promised her that many celebrities would also open their shops there, which would ostensibly drive up popularity of the arcade.
However, Ms. Kittinya complained, none of the promised celebrities' business showed up. She added that the tenants also invested large sum of money into starting their business at the Harbour, as the project did not come with basic structures like roofs, painting, or windows.
Few months ago, The Harbour project collapsed due to low revenues, the shop owner said, and the developers proceeded to cut electric and water supplies to all shops located in the arcade.
She said that the tenants were never compensated for the collapsed deals, and estimated their total losses at 32 million baht.
"Some shops invested 300,000 in the project. My shop is the highest investor, at 11 million baht. Now I have to bear burden for the debt I owed to the bank," Ms. Kittinya told reporters.
Furthermore, according to Ms. Kittinya, the developers are seeking to sell the project to another company in order to dissolve their responsibility over the damages.
She told reporters that she has attempted to seek answers and compensation from Mr. Nakorn Kornhiran, director of the defunct project, but his lawyers reportedly told her to settle the losses at the court – a prospect she and other tenants are reluctant to face, Ms. Kittinya said, as they lack the fund to fight the possibly lenghty court cases.
Deprived of other options, Ms. Kittinya said the tenants decided to seek help from the Governor of Chiang Mai province to settle the dispute outside the court.
Mr. Chana Paengpibul, the Deputy Governor, later met with the demonstrators on behalf of Governor Wichian Puttiwinyu, who is reportedly on a trip outside the province, and promised to serve as mediator in the dispute for the aggrieved tenants.
Mr. Chana also promised that the authorities would investigate the matter and contact the shop owners in 7 days.