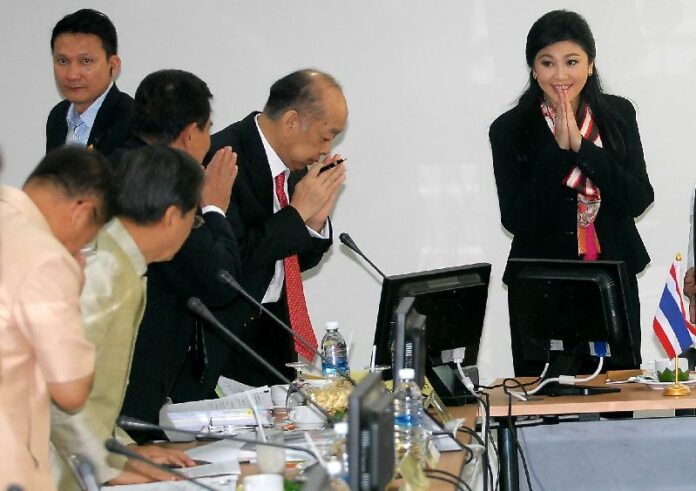 (11 March) Former Prime Minister Thaksin Shinawatra is upset by his sister's refusal to employ political experts he has arranged for her, according to well-placed sources.
Mr. Thaksin reportedly made the remarks during a meeting with a group of Pheu Thai MPs in Beijing last weekend.
According to the sources inside Pheu Thai Party, who spoke on condition of anonymity, the MPs flew to the Chinese capitol in order to ask for his advices concerning the ongoing political crisis, which pits the embattled government of his younger sister, Prime Minister Yingluck Shinawatra, against anti-government protests and their alleged backers in the establishment.
Mr. Thaksin remains an influential figure behind the ruling Pheu Thai Party despite his ousting in the 2006 military coup.
The sources claim that although Mr. Thaksin is confident the military won't launch another coup against his sister's government, he is concerned that the 2 February general election would be ultimately invalidated by the courts.
"He wished the Democrats would run in the election, so that everything will be over," one of the sources said, referring to Mr. Thaksin, "He is confident that Pheu Thai will win another election anyway".
Nevetheless, Mr. Thaksin preferred to see Ms. Yingluck taking more offensive stance toward the ongoing protests led by the People's Committee for Absolute Democracy With the King As Head of State, the sources said, such as "taking strict legal actions" against the protesters.
In the meeting with the Pheu Thai MPs, the former leader also allegedly berated Ms. Yingluck for refusing to employ the political advisers and strategists Mr. Thaksin wanted to place into her inner circle.
"Yingluck is not a strong figue. She's a good person but people close to her are incompetent," the source quoted Mr. Thaksin as saying, "I feel sorry for Yingluck, so I don't want to press her too hard. But the people in Thailand aren't up to my standard".
Furthermore, Mr. Thaksin is likewise concerned that Pheu Thai Party lacks "professionals" who can help the party win the media war against the protesters and their backers, particularly the Democrat Party.
"The people with good faces don't come out to defend our party, and those who came out don't have good faces," Mr. Thaksin allegedly complained to the MPs, "Unlike the Democrat Party. They have all the knowledgeable people and academics".