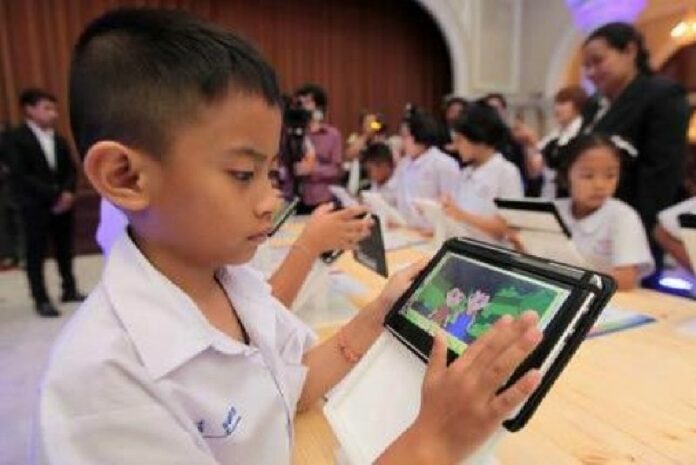 (22 March) The government will file a lawsuit seeking a compensation fee of 154.6 million baht from the company behind the now-collapsed school tablet computers plan.
Minister of Education Chaturon Chaisaeng said Jasmine Telecom System Company was initially contracted to distribute tablet computers to Matthayom 1 students and their teachers enrolled in public schools in the northern and northeastern regions ("Zone 4" under the Ministry of Education designation).
Under the contract signed in September last year, the company was due to distribute the first shipment of the devices in February 2014, Mr. Chaturon, but the company postponed the delivery in early February and promised to schedule another delivery date on 4 March.
When that deadline was missed again, the Ministry was forced to cancel the shipment in order to prevent any further delay or damage, Mr. Chaturon told reporters in a press conference yesterday.
According to the Minister of Education, the company must be fined 0.2% of the price of each undelivered tablet computers for each day that exceeded the deadline, amounting to 1.5 million baht of damage fee per day and a total of 114.6 million baht. An additional insurance fee of 40 million baht will be applied to the compensation payment, Mr. Chaturon said.
The collapsed deal is yet another blow to the "one tablet, one student" program promised by the government of Prime Minister Yingluck Shinawatra. Tablet contracts for Zone 1 and Zone 2 have faced similar cancellations.
Like some other populist policies pursued by the government, such as the controversial rice-pledging scheme, the tablet program was plagued by delays and reports of possible corruption.
However, Mr. Chaturon remains unfazed by the latest obstacle, vowing to organise a new round of auction for the tablet distribution contract soon. He added that Jasmine Telecom System Company will be required to pay some of the budget for the new auction.
Mr. Chaturon also expressed his confidence that students will receive their tablets within "May and June" this year.