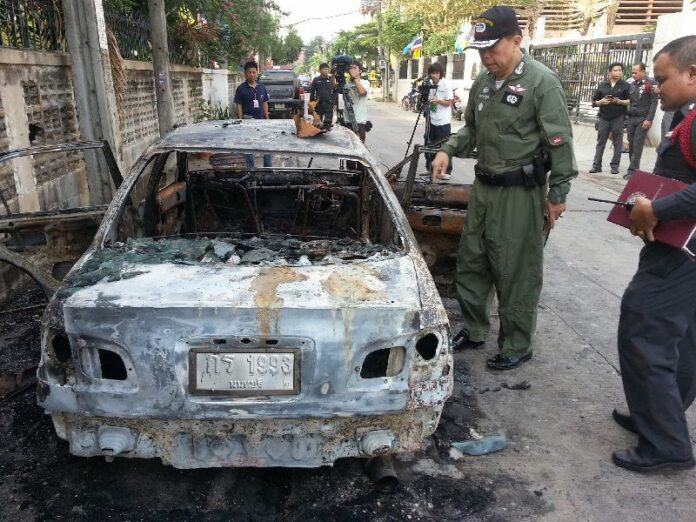 (22 March) A car filled with explosive devices has exploded near an anti-government protest camp site in northern Bangkok today.
The explosion reportedly occurred at around 05.00 this morning at Soi Chaeng Wattana 13 in the Laksi district, a mere 100 meters from the rally site maintained by the People's Committee for Absolute Democracy With the King As Head of State (PCAD) on Chaeng Wattana Road.
Responding to emergency calls, the police arrived to find the car engulfed in flames. The initial inspection revealed that the explosion was caused by two of the three large gas canisters inside the vehicle. The police later painstakingly removed the remaining, unexploded canister and defused the device.
No injuries were reported.
According to the police, the canisters were improvised explosive devices filled with incendiary fertilisers and some firearm bullets. The design resembled another 15-kg IED found in front of the Criminal Court building on Ratchapisek Road in Bangkok last week, police said.
Witnesses told police the car had been parked in the alley for "3-4 days". It is not immediately clear whether the explosion was deliberately triggered or caused by accident.
Police said the registered owner of the vehicle had passed away a month ago, but stressed that the officers are working to identify the person now responsible for the car.
The car involved in the incident was described as a silver-coloured Toyota Corola, with license plate registered in Nonthaburi province.