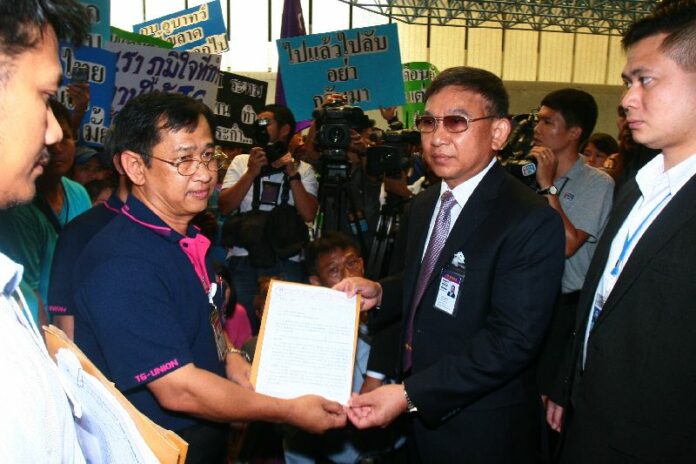 (27 March) Over 4,000 employees of Thai Airways have threatened to call a strike if their demand for increased wage and welfare are not met by 1 April, their union representatives say.
The staff serve in kitchen service and ground operations of the Thai national airlines, and are contracted under Wingspan Services Company, a subsidiary of Thai Airways.
3,000 of the 4,038 employees of the company receive their wages on daily basis, or at around 315 baht per day, which is too low to meet their financial burdens, said Mr. Samart Pantang, chairman of the company union.
Mr. Samart also complained that the employees receive little or no welfare from the company.
According to Mr. Samart, he has requested higher salaries from the company, better welfare, overtime payment to workers on the night shift, and monthly salary for all employees instead of the daily wage.
He said the demands will be put under negotiation between representatives from Thai Airways and the union leaders on 27 March at the Ministry of Labour. If Thai Airways failed to accept the union's demands by 1 April, Mr. Samart, the employees will immediately organise a strike, though he did not say how long the action will last.
Mr. Chokchai Panyayong, caretaker director of Thai Airways, said the employees of Wingspan Company have the right to engage in strike, but their action must stay within the boundary of the laws, and added that the employees also reserve the rights to take any legal action against the strike agitators.
The threat of strike is the latest incident to hit the Thai flag carrier, which has seen its revenues dwindling in recent months due to decrease in passengers.
In a board meeting with ACM Prachin Chantong, who was recently appointed new chairman of the Thai Airways executive board, Mr. Chokechai said the average passenger-cabin rate of January-March this year is 70% filled, a decrease from the rate of 80% in the same period last year.
As the meeting took place, over 200 Thai Airways union activists and employees rallied in front of the airlines headquarters, demanding ACM Prachin to fire Mr. Amphon Kitti-Amphon from the Thai Airways executive board.