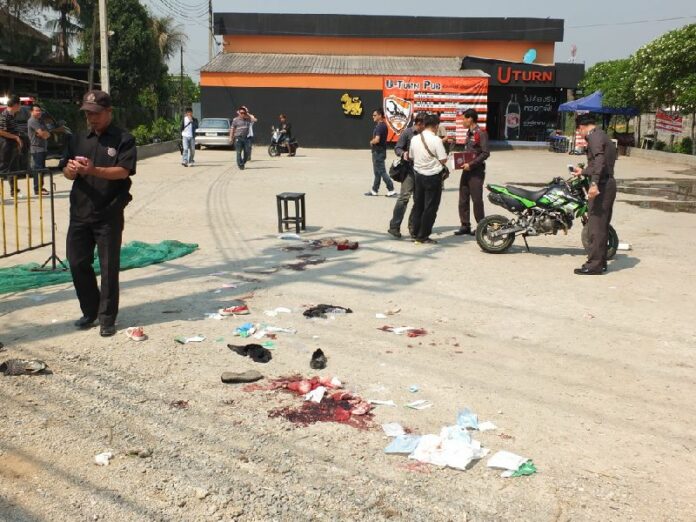 (27 March) Seven people have been injured after a grenade was thrown into a nightclub in Chiang Rai province after a fight broke out between groups of teenage patrons.
The incident reportedly took place at U-Turn Pub in Mueang district in the early this morning, shortly after the nightclub closed down.
Rescue workers said some the injured were waiters and waitresses, and "Coyote" dancing girls. The victims also include three individuals who are under 18, a member of the rescue team added.
Some of the victims are reported to be in a critical condition, with shrapnel and blast wounds on their heads, legs, and arms.
According to the initial police investigation, two large groups of teenagers were engaging in a fight in the parking lot of the nightclub earlier in the morning, some of them smashing each other over the head with bottles of alcoholic beverages.
The fight eventually subsided after one of the rival groups withdrew and made their way to a local police station to file complaints. However, witnesses told police, as the nightclub staff were leaving the establishment after closing time, a pair of teenagers drove a motorcycle to the bar and hurled a grenade at the crowd at the parking lot, before speeding away.
Police said only one CCTV camera was installed in the vicinity around the crime scene, and it was too far off to clearly identify the perpetrators. Officers suspect that the pair might have been engaged in the fistfight at the pub earlier and returned to the scene for revenge.
It is not immediately clear if the owners of U-Turn Pub might face any legal action for employing underage individuals as nightclub staff, and admitting underage patrons into the establishment.