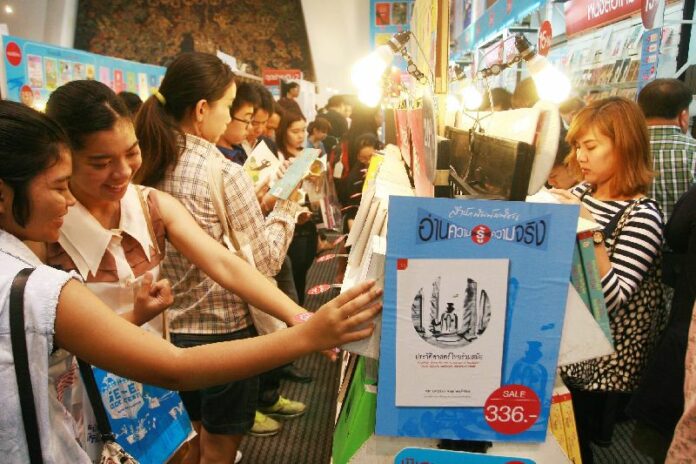 (30 March) Matichon Publishing has seen rise in book sales at the annual National Book Week expo, a success its manager credits to the ongoing political turmoil.
The 42nd National Book Week kicked off at Queen Sirikit Convention Centre on 28 March, with hundreds of publishing houses organising their booths in the expo. The booth manned by Matichon, the parent-company of Khaosod newspapers, is located in the "Plaza Zone" of the convention centre.
Books about politics and contemporary history are said to be the biggest-selling products at Matichon booth, namely, "The Thai Contemporary History" by Chris Baker and Phasuk Pongpaichit, "The Demoncracy of Unequal Citizens" by Attachak Sattayanusak, and "The End of Yingluck" by Wasana Nanuam.
Noom Mueang Chan, famous columnist and frequent writer to Matichon, also makes his appearance at a panel discussion organised by the publication yesterday, easily drawing a full-house audience.
Ms. Kittiwan Terngviset, manager of Matichon Publishing, said this year's sales at the National Book Week are particularly successful, partly thanks to the ongoing political crisis which stir interest in politics among many citizens.
"Politics and history remain the strong points for the brand of Matichon," Ms. Kittiwan said, "We have printed many books with many genres, but we never neglect our focus in politics and history,"
She added, "Ultimately, the people always resort to this kind of books for knowledge, especially in the time of political tumult and conflicts, because information becomes the most important thing".
Ms. Kittiwan identifies the latest work by Mr. Baker and Ms. Phasuk as the most recommended book for the audience in the present time, as their tour of the Thai political history would help the public understand root causes for the current round of conflicts which pit the government of Prime Minister Yingluck Shinawatra against anti-government protesters who call for her resignation.
"We can't trust anyone for the solution to the crisis in the present time," Ms. Kittiwan said, "We have to read and gather knowledge by ourselves … If we understand history, then we might be able to find the solution together".
The 42nd National Book Week expo lasts until 7 April.
For comments, or corrections to this article please contact: [email protected]
You can also find Khaosod English on Twitter and Facebook
http://twitter.com/KhaosodEnglish
http://www.facebook.com/KhaosodEnglish