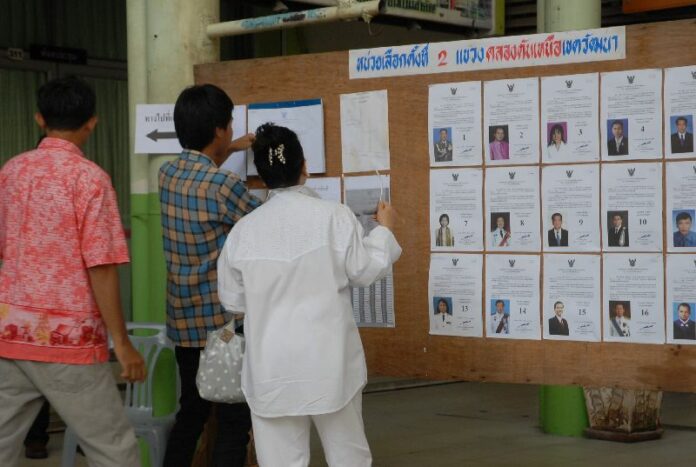 (30 March) Polls for elected Senate seats open today amid a widely apathetic mood, with election officials admitting that they expect a low turnout.
The election will install 77 Senators – one for each province of Thailand – to the Thai upper house. The other 73 Senators are appointed in accordance with the 2007 Constitution, which abolished the fully-elected house of Senate decreed by the now-defunct 1997 Constitution.
Reports from many provinces suggest that voters are not as enthused as the Election Commission (EC) would have liked, despite the agency's spending on public relations campaigns designed to encourage the voters to go out and vote.
In Pathum Thani province, the voters are so scarce that no line formed at all at the entrance to the ballot station. Some residents, who refuse to be identified by names, told our correspondent they had no wish to vote as there are possibilities that the result might end up being invalidated by the Constitutional Court like the 2 February general election.
Some residents, from Chinese descent, said they will have to skip the ballots due to the annual Chinese tradition of grave-sweeping which requires them to travel to their ancestors' graves upcountry.
The apathy might also be due to restriction concerning the Senate election, such as bans on vote-canvassing campaigns by candidates.
Pol.Lt.Col. Suchart Surasadcha, local EC director in Pathum Thani, said he expected the turn out rate to be as low as 40%, far lower than the EC officially expect, and certainly lower than the 70% turnout for 2 February election.
The turnout is also low in Nakhon Si Thammarat, although an 83-year old woman arrived at the poll station in Phasa School in Mueang district to cast her ballot when the polling station opened at 08.00, explaining that she had never missed a single election in her entire life.
Nong Khai province has similarly seen little enthusiasm, but nevertheless upcountry polling stations see more voter turnouts than in downtown areas.
EC officials said they have not received any reports of major disturbance at any of the ballot stations, a stark difference to the advance voting and election day for the lower House, which saw violent campaigns by anti-government protesters to scuttle the votes.
The unofficial result of the Senate election is expected to be declared by 20.00 tonight.
For comments, or corrections to this article please contact: [email protected]
You can also find Khaosod English on Twitter and Facebook
http://twitter.com/KhaosodEnglish
http://www.facebook.com/KhaosodEnglish