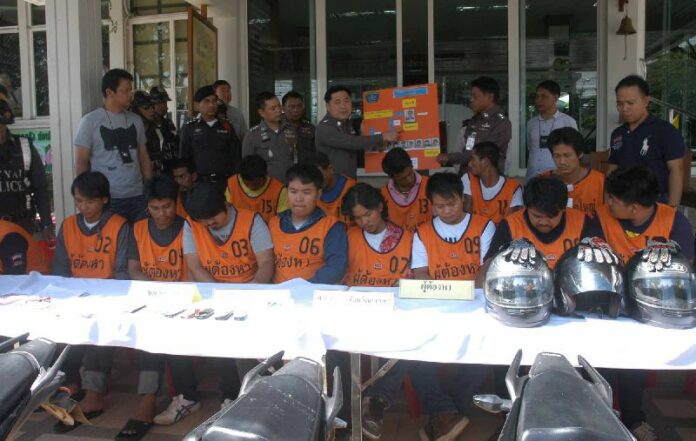 BANGKOK — The average household debt in Thailand has reached a nine-year high, according to a research by the Thai Chamber of Commerce.
"Average household debt is currently 219,158 baht, which is an increase of 16 percent [from last year]," said Thanawat Polwichai, director of the Centre of Economy and Business Forecasting at the University of Thai Chamber of Commerce.
The number is the highest since 2006, when the Chamber of Commerce first started gathering data about household debt in Thailand, Mr. Thanawat said.
According to the research, which involved interviewing 1,200 people with an income between 15,000 – 50,000 baht per month, three quarters of the respondents reported being in debt.
Almost forty percent these debts are from buying assets, 32.2 percent are a result of everyday spending, 19.6 percent are from long-term investments, and 10.1 percent are from buying estates or houses, according to the survey.
The data also shows that 40 percent of the debts are owed to "legal" institutions such as banks and registered moneylenders, 37.2 percent to "extra-legal" loan sharks, and 22.8 per cent to both legal and extra-legal lenders.
Eighty-three percent of respondents said they have faced difficulty paying off their debts in the past year.
Furthermore, the survey indicates that many Thai people have a shaky financial foundation, with half of respondents reporting to have no savings at all.
Mr. Thanawat said household debt is the main factor keeping domestic spending low, which is holding back the recovery of Thai economy following six months of political turmoil.
He suggested that the state launch a stimulus package to boost recovery and simultaneously implement programs aimed at easing the cost of living. The authorities should also convince low-earning citizens to borrow money from registered moneylenders rather than illegal ones, Mr. Thanawat said.
The researcher added that one surprising element in the survey was the relatively low debt caused by betting in 2014 FIFA World Cup, which came to an end on 13 July in Brazil. Only 4.9 per cent of all debts are related to football gambling, Mr. Thanawat said.
"It's the result of the efforts to solve social problems by the National Council for Peace and Order. That is why gambling-related problems are low," said Mr. Thanawat, explaining that money circulating in the football gambling industry decreased during the World Cup season compared to the period that preceded it.
As part of an intense crackdown on football gambling networks, authorities arrested 4,720 people across the country for charges related to football gambling this year, according to a data by Royal Thai Police. Over 34 million baht was confiscated in connection with these gambling networks, police say.
For comments, or corrections to this article please contact: [email protected]
You can also find Khaosod English on Twitter and Facebook
http://twitter.com/KhaosodEnglish
http://www.facebook.com/KhaosodEnglish