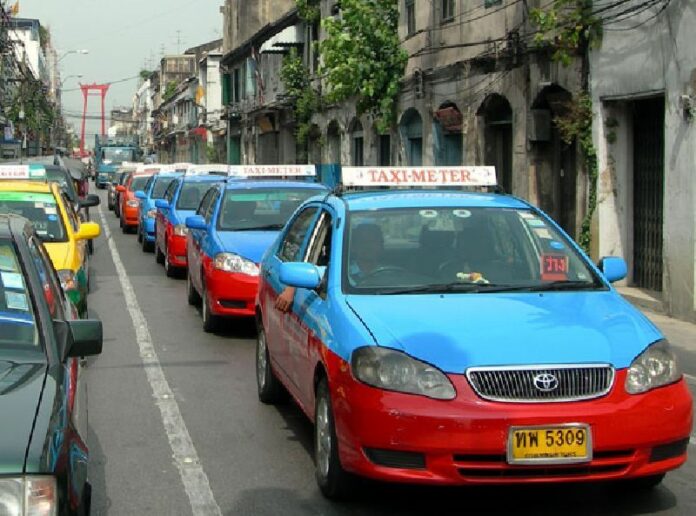 BANGKOK — The fare of metered taxis in Bangkok will rise by 8 percent tomorrow, Transport Ministry officials say.
Transport Minister Prajin Chanton said the price hike, which was formally approved on 4 December, is reasonable because there has not been an increase in taxi fares since 2008.
"Fuel prices and the cost of living have increased since then," said Air Chief Marshal Prajin, who is a member of Thailand's ruling military junta.
Under the new regulation, passengers will pay 2 baht per minute spent in traffic, which is defined as a period when the taxi drives slower than 7 kilometres per hour, compared to the current rate of 1.5 baht per minute.
The 35 baht starting fee will remain unchanged, but the price per kilometre will increase between .50 baht and 2 baht depending on the distance.
However, other fare regulations remain unchanged, such as the 20 baht service fee for booking a taxi via the radio centre, and the 50 baht service fee for hailing a taxi at either of Bangkok's two international airports.
The fare rise coincides with an increase in complaints about the behaviour of many taxi drivers, such as their tendency to target foreign tourists and charge them extortionate fares.
Taxi drivers are also known to commonly refuse passengers for various reasons, and sometimes behave aggressively towards or even assault foreign tourists in Bangkok.
Jirut Wisanjitra, deputy director of Department of Land Transport, said the new fare policy comes with a new system of punishment for misbehaving drivers.
According to Jirut, any taxi driver who is found guilty of refusing to turn on a meter, accept passengers, and other service-related offences three times will lose his or her taxi license. Taxi drivers who are found guilty of a DUI or any criminal charges will instantly lose their license, Jirut said.
ACM Prajin also said he has instructed officials to take complaints from passengers very seriously and punish any taxi drivers who violate the law.
"We are inspecting the service of taxi drivers, especially the complaints about drivers refusing to take passengers and other bad manners," ACM Prajin told reporters.
He added that as a condition of the fare raise, officials will inspect taxi vehicles in Bangkok to ensure that they are up to standard in terms of safety. According to ACM Prajin, 40-50 percent of all taxi vehicles have already been inspected in the past weeks.