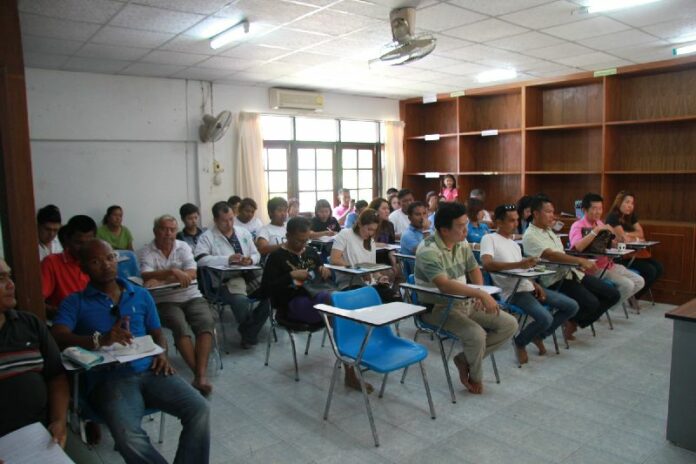 PHANG NGA — Authorities in Phang Nga province are considering limiting the number of tourists on the Similan islands to 250 people per day in an effort to stem overcrowding on the national park land.
Nat Kongkasorn, head of the Similan National Park, said at a meeting with tour operators yesterday that there have been numerous complaints on social media about the impact tourists are having on the islands' natural environment.
Renowned for their picturesque beaches and coral reefs, the Similan islands are popular destination for Thai and foreign tourists in southern Thailand. Trips to the islands are typically arranged by tour companies from mainland provinces like Phang Nga, Krabi, and Phuket.
Representatives of 16 tour companies were present at yesterday's meeting. In addition to setting a limit of 250 visitors per day, which Nat said would be divided among the tour operators, the park is also considering the following new policies:
Removing makeshift cafes installed by tour companies on the islands' beaches

Rotating tourists' visits to different attractions around the islands throughout the day to avoid congestion in any particular area

Banning loud boat engines or motors that could churn up sands in the shallow water

Banning swimming and snorkeling in areas where coral reefs and marine lives might be affected

Banning littering in the oceans

Banning feeding marine life
Anwarin Suchindasathien, manager of Sea Star company, said she agrees with many policies advised by the National Park officials, but warned that the limit of 250 tourists per day may be unrealistic.
"Nowadays, each company brings about 150 tourists to visit the Similans," Anwarin said, "Therefore, it's impossible that the limit of two hundred per day will work, because there are at least 1,000 tourists visiting."
Another tour company representative, Chalermsri Paeyai, said the number of tourists to southern Thailand has been rising sharply this month, which has contributed to the "unusually dense crowds" on the islands. However, Chalermsri, who heads Check In Andaman company, said that any restriction on the number of tourists to the Similans may cause a "chain reaction" that damages the tourism industry in the region.
"It could be be a chain reaction, affecting boat owners, boat crew, cars that pick up tourists, hotels, and the tourists," Chalermsri said, "But I am glad to see serious actions from the National Park about the problems."