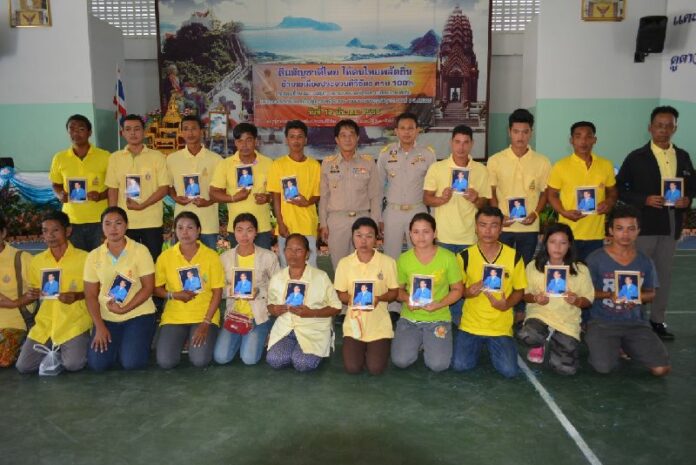 PRACHUAP KIRI KHAN — Following decades of bureaucratic delays, Thai authorities have finally granted citizenship to descendants of Thais who found themselves without a formal nationality after the British Empire declared their homes to be in Burmese territory nearly 150 years ago.
Pongpan Wichiansamut, permanent secretary to governor of Prachuap Kiri Khan province, presided over the ceremony granting Thai citizenship to 24 representatives of those descendants today.

Twenty-four descendants of people who lived in Siam territory that later became Burma were granted Thai citizenship on 12 March 2015.
The new citizens' ancestors lived west of Prachuap Kiri Khan and lost their official nationality when the British Empire declared the area part of colonial Burma in July 1868. The region, called Tenasserim, had previously been considered part Thailand, then known as Siam.
Although the descendants of the group later migrated to Thailand, they were never formally recognized as Thais by authorities. The group first filed a request for citizenship in 1976, but their application was only accepted by the Cabinet in 2006, Pongpan said.
In total, 167 people have been granted the citizenship, including the 24 representatives who attended the ceremony today. Another 169 people are still waiting for their applications to be finalized by the Ministry of Interior Affairs.
Pongpan and other officials handed out Thai ID cards, residential registration booklets, and portraits of His Majesty the King to the new citizens. The group then sang the Thai national anthem together.
In the 19th century the Siamese government claimed parts of modern-day Myanmar, Laos, Cambodia, and Malaysia as its dominions. The Siamese claims were later contested by British and French colonialists in Southeast Asia in the middle of the century. By the early 20th century, the Siamese government's territories in Malaysia and Burma were annexed by the British Empire, while Cambodia and Laos fell under French control.
Known as "The Losses of Territory," the incidents are now routinely portrayed in public school textbooks as acts of Western aggression on Thai sovereignty.