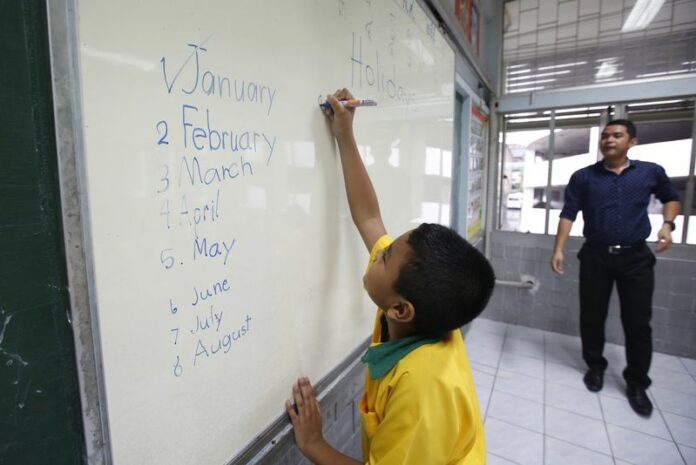 By Siraphob Thanthong-Knight
PHUKET (DPA) – At a luxurious resort in southern Thailand, Boblyn Pertible from the Philippines is completing a professional internship for her bachelor's degree in hotel management.
"I will consider applying for jobs outside my country after graduation," she said in fluent English. "The coming of the ASEAN Economic Community will definitely open doors to more opportunities for me."

Thai schoolchildren during an English language lesson at Watthatthong Primary School in Bangkok, Thailand, 02 March 2015. [EPA/BARBARA WALTON]
In December, Thailand and the other nine member states of the Association of South-east Asia Nations (ASEAN) are due to start a single market.
Integration will enable the free flow of capital, goods, services and skilled labour. Workers in eight areas – engineers, nurses, doctors, dentists, architects, surveyors, accountants and tourism professionals – will be able to migrate across ASEAN borders.
The market is home to more than 600 million people, almost double the population of the United States. The combined economy will be the seventh largest in the world, comparable to that of Britain or Brazil.
Language skills will matter in the new single market, especially in English, the only lingua franca in ASEAN.
"English will be extremely important as a means for communications in business," said Treenuch Phaichayonvichit of the Thailand Development Research Institute.
"However, Thai students seems to perform poorly. The mean score on national tests in English has always been below 50, which is a failing grade by any standard."
"The performance in international English proficiency tests is also inferior to other countries in the region," Treenuch said.
The average Thai test-taker typically scores lower than those in Singapore, Malaysia, the Philippines, Indonesia, Vietnam and Myanmar on both the International English Language Testing System and the Test of English as a Foreign Language.
Thailand ranks 55th out of 60 countries on the English Proficiency Index, the world's major ranking of English-language skills. That is the lowest among South-East Asian countries.
Thais struggle with English even though it is a mandatory subject from primary school through high school and despite 20 per cent of Thailand's GDP coming from tourism.
"Classrooms in Thailand put too much emphasis on grammar," said Sarah Wilson, an English teacher who has taught in Thai schools for more than 10 years. "They focus on studying for tests rather than being able to converse and use English in real-life situations."
"Many students struggle forming sentences on their own," said Krittapot Jiravat, a private English tutor. "All they want to do is study for exams and tests, because they think they don't have any other purposes beyond that."
"Many professionals have to study after work when they realize that English is important in their career," he said.
"Once the single market is launched, the job market will become more competitive," Treenuch said. "People with higher skills in English will be at advantage."
Workers with stronger English skills typically earn 30 to 50 per cent more pay than those with weaker proficiency, according to the Harvard Business Review.
Advanced English skills allow job seekers to apply for better jobs and raise their living standards.
"We are already seeing an influx of skilled workers from countries like the Philippines, who are replacing Thais in jobs that require English-speaking employees," Treenuch said.
Staff positions at the Regent Phuket Cape Panwa, where 95 per cent of hotel guests are foreigners, are open to all nationalities, according to manager Witchuda Mas-o-sot.
"The ability to communicate in English is the most important skill to have," Witchuda said.
An unemployed recent hotel management graduate expressed concerns that his difficulty in finding a job will become even more apparent once the integrated ASEAN market is open.
Others, like Boblyn the Filipino intern, will benefit.
"I speak English more fluently than Thais do," she said. "That is my competitive advantage."