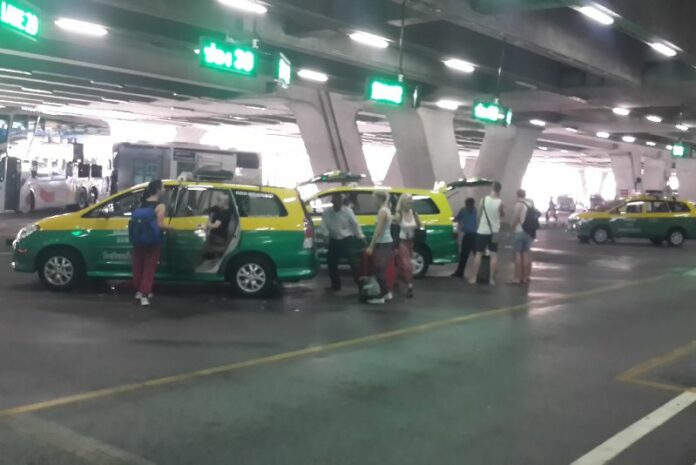 BANGKOK – The leader of a an airport taxi union says there is no plan for a strike at Bangkok's Suvarnabhumi Airport this weekend, contrary to rumors on social media.
Reports circulating on social media alleged that 1,700 van taxis at Suvarnabhumi planned to go on strike this weekend because the military government did not approve the fare hike they requested.
However, Patawee Meerach, a representative of Suvarnabhumi taxi union, said cab drivers have no plan to strike, though he admitted that flyers calling to "resist" the government were distributed among some drivers.
"So I called a meeting for taxi operators at the airport to clarify that the demand we submitted to the government is being deliberated," Patawee said. "The relevant agencies are not ignoring us. Furthermore, if we stage a strike, it will affect image of the country. It will be damaging. Tourists will lose confidence in our public transportation."
The airport taxi drivers have asked the Ministry of Transport to raise the fare for van taxis because they are larger than normal cabs and require more fuel. The drivers also petitioned for to charge extra if passengers bring many bags or boxes.
Dalad Assawate, deputy director of Suvarnabhumi Airport, also told Khaosod that the strike is not expected to take place.
The rumor appears to have originated on a Facebook page called "Voice of Taxi," which claims to be run by a taxi driver. The post, published on 20 April, stated that van taxi drivers were planning to strike because of the "unfair" fare system.
In recent months, Thai authorities have started cracking down on taxi drivers who refuse to use a fare meter or take passengers based on their destinations.
In February, the Department of Land Transport released a mobile phone application that allows passengers to send feedback about drivers directly to the Department.
On the night of 22 April, police arrested 34 taxi drivers on Sukhumvit Road who refused to take passengers, ASTV Manager reported.
Speaking to reporters today, Dalad said airport authorities and taxi drivers have agreed to limit the number passengers per car to four as a safety measure.
Currently, many insurance companies also only cover taxis that carry four passengers, Dalad added. She said it is not confirmed when the new measure will take effect.
"Representatives of taxi operations were satisfied, and they said they are willing to cooperate with the airport authorities," Dalad told reporters. "They promise that they won't ask for flat fees from passengers ever again."
She also advised passengers who hail taxis from Suvarnabhumi Airport to keep their taxi slip in case they need to file a complaint with authorities. Complaints about taxi drivers can be lodged 24 hours a day at the airport hotline 1722, Dalad said.
Patawee, one of the taxi leaders who attended the meeting, said he agreed to the measure to limit the number of passengers per car.
"If passengers insist on traveling in large group, I suggest they use other services that the airport offers, for example, public vans or limousines, because it's more convenient for them," Patawee said.
For comments, or corrections to this article please contact: [email protected]
You can also find Khaosod English on Twitter and Facebook
http://twitter.com/KhaosodEnglish
http://www.facebook.com/KhaosodEnglish