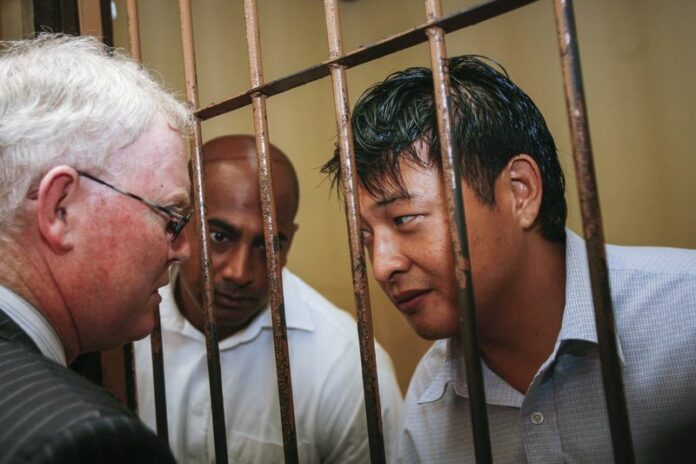 JAKARTA (DPA) – Indonesia is planning to execute several foreign drug convicts on Wednesday, a foreign embassy official said.
Diplomats have been requested to travel to Nusakambangan, the prison island off Java where the inmates are to be executed, on Saturday, the source told dpa on condition of anonymity.
Earlier Friday an official said authorities have ordered preparations for the execution of 10 death-row inmates, including two Australians that have been the subject of a high-profile campaign for clemency.
A letter, issued on Thursday by a deputy attorney general, told prosecutors to "prepare for and carry out the executions," said Tony Spontana, a spokesman for the attorney general's office.
"It's not a letter of notification to the convicts," he said.
Convicts are typically notified of their executions three days in advance.
Spontana said last week that the executions might be carried out late this month.
The Attorney General's office has said that the 10 inmates would all be executed at the same time.
The Australian government has repeatedly asked for clemency on behalf of its nationals Andrew Chan and Myuran Sukumaran.
Peter Morrisey, a lawyer for the Australian pair, said he was concerned by the letters, as he understood the legal process was not yet over.
"That looks as if the attorney general's office is determined to press ahead and hustle through," Morrisey told broadcaster ABC.
"That's the zone we're in now. We haven't got the 72-hour knock but that could be imminent."
Another lawyer for the men, Julian McMahon, said the families of Sukumaran and Chan were travelling to Indonesia, and some members were already there.
The European Union on Thursday criticized Indonesia's plans to execute the convicts, saying the death penalty was not a solution to the country's growing drug problem.
A French citizen, Serge Atlaoui, is among the inmates facing the firing squad.
"The recent rejections in Indonesia of retrials, including in the case of a French citizen, bring closer the regrettable prospect of further executions," EU foreign policy chief Federica Mogherini said.
The other drug inmates facing execution are four from Nigeria, and one each from Indonesia, the Philippines and Brazil.
One convict first identified by officials as Ghanaian, Martin Aderson, was actually from Nigeria, Spontana said.
He also said the Attorney General's office was awaiting a verdict, due Friday, on a case review request filed by the Indonesian convict, Zainal Abidin.
The governments of the Philippines, France and Brazil have also appealed to Indonesian President Joko Widodo to show mercy and spare their respective citizens.
Reporting by Ahmad Pathoni and Frank Walker