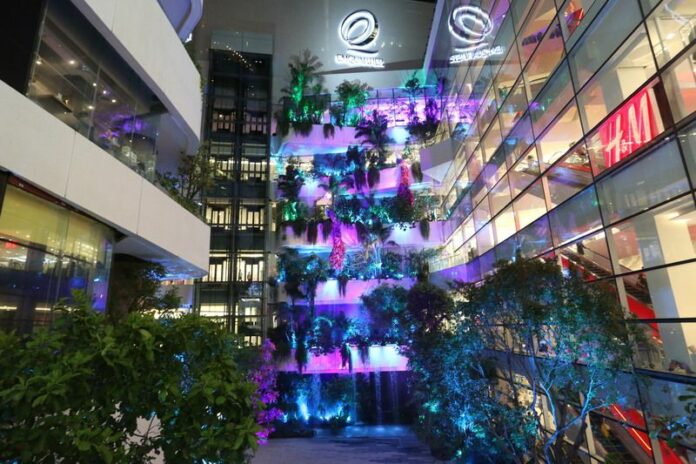 BANGKOK (DPA) — Bangkok's newest luxury mall rises above one of the Thai capital's busiest commercial districts like an uneven jigsaw of white curves and sparkling glass.
A collection of three buildings joined by walkways and separated by what developers describe as "the tallest man-made waterfall in South-East Asia," the EmQuartier mall is the latest addition to Bangkok's indoor shopping scene.
The restaurant section on the highest floors wraps itself around a hanging garden that looks like something out of the James Cameron film Avatar, while a skyscraper of office blocks tops off the edifice on the central Sukhumvit road.
Facing EmQuartier across the road is the Emporium, another luxury shopping centre owned by The Mall Group.
Two hundred metres down the road, construction is starting on the EmSphere development, part of plans to rebrand the whole area as the "EmDistrict."
"Bangkok has always wanted to become a world-class city [with] the tallest buildings, the most glamorous hotels, the biggest malls," said Tao Rugkhapan, a city planner who previously worked with the government.
Its projects may be grand, but The Mall Group is not the biggest player in Bangkok's mall wars. Its main rival, Central Group, is the largest retail holding company in Thailand.
Its flagship Central World mall receives 150,000 visitors per day, comprised mostly of Thais but 20 per cent are tourists from Asia and beyond, the company says.
Tourists are expected to spend over 12 billion dollars in Bangkok in 2015, according to credit card company Mastercard, with many coming to Thailand especially for its reputation as a shoppers' paradise.
But with 31 major shopping malls on Bangkok's urban rail route – which itself has only 23 stations – and more than half of these built in the last decade, many are now wondering if Bangkok's embrace of high-end consumer culture has come at too high a price.
The spate of mall-building has brought problems for the city below, Tao says, citing worsening congestion on already busy roads and the displacement of local shops and communities.
"I hate the modernization of these areas. We have lost our sense of locality," said Pavich Supapipat, who has been living in Bangkok's busy Thonglor district, a 10-minute walk from the planned EmDistrict, for more than 20 years.
At least three new malls are planned for the thoroughfare, already lined with brand new and older condominium blocks.
"We are supposed to deal with this huge influx of people but we still have the same number of small roads and streets," Pavich said.
"It's just sad that the urban poor, the majority, have never been part of the city's planning," said Tao.
Many Bangkok residents echo these sentiments.
A campaign group called Makkasan Hope has gathered over 25,000 signatures to petition the Bangkok Metropolitan Administration (BMA) to not sell a large swathe of state land in central Bangkok to developers, but instead create a green space like New York's Central Park.
Their frustration is aimed at malls like Central Embassy: a 557-million-dollar, high-end shopping centre that occupies 140,000 square metres of central Bangkok but sits largely devoid of shoppers just one year after its grand opening, leading many to dub it the "Central Empty."
Even without customers, experts say such malls survive partly by selling retail space to global chains like Gucci and Chanel, which can in turn absorb the losses if sales disappoint.
Central Group had revenues last year of around 700 million dollars.
"Of course museums and parks would be better for everyone but there are not enough incentives for landowners to make those choices," said Prinya Reunprapan, a business development executive.
The "default choice" for developers of prime real estate "will be a shopping mall or condominium, because they are seen as the safest bet for the landowner."
While the developers are concerned with the risks to their sizeable investments, others express reservations about the equally significant impacts of the large-scale projects.
Siam Paragon, which bills itself as one of the largest malls in the world and houses a huge aquarium, consumes twice as much electricity per year as the northern province of Mae Hong San and its 250,000 residents, according to environment and development monitor group Mekong Commons.
Neither Central Group nor The Mall Group would comment on issues of traffic congestion, the displacement of small shop owners or sustainable energy usage.
These are indeed far from their main customers' concerns.
"I can just come here and get everything done without having to walk outside. I don't want to walk outside especially in this weather," said Natchanok Passapiti, 28, as she left Central World loaded with new purchases.
When asked why it was necessary to build two luxury malls across the street from one another, The Mall Group's public relations department replied that "Emporium is for luxury shoppers while EmQuartier is more of a lifestyle outlet."
As for the EmSphere to come, "we still have not completely decided what will be inside the mall," said press officer Suthicha Rouenkon. "But we imagine that it will be a place for the ultra-luxury shoppers, yachts and supercars and such."
(Reporting by Cod Satrusayang)
For comments, or corrections to this article please contact:[email protected]
You can also find Khaosod English on Twitter and Facebook
http://twitter.com/KhaosodEnglish
http://www.facebook.com/KhaosodEnglish