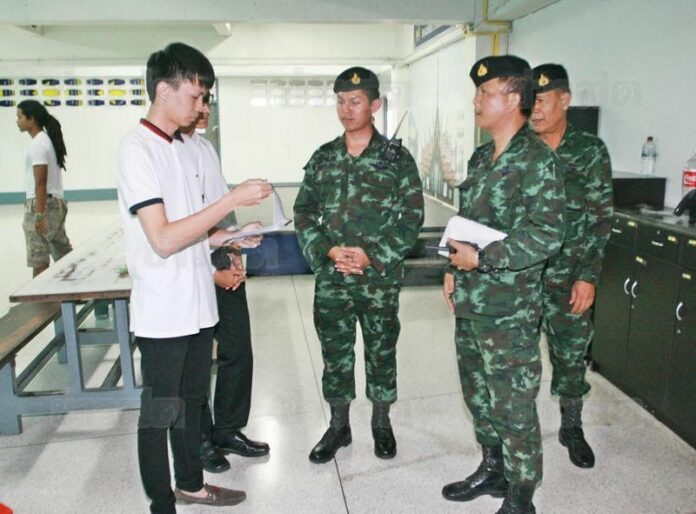 BANGKOK — Soldiers reportedly ordered a university in Bangkok to cancel a panel discussion on the new constitution, which will be put to national referendum next January.
The forum was organized by a student activist group at Ramkhamhaeng University, and scheduled to take place today at 1 pm. However, a representative from the Network of Student Activists for Society, Pongnarin Nonthakam, arrived at the venue and announced that the university had asked his group to cancel the forum, citing orders from soldiers.
Pongnarin said his group initially planned to go ahead with the discussion, which was going to include a member of the junta's military government as a panelist, but decided to cancel it because of the "pressure" from authorities.
"I'd like to insist that this forum and this discussion was [meant to be] an expression of academic opinion about the constitution, without any political agenda or intention to cause unrest, or harm the climate of reconciliation," Pongnarin said. "We will discuss whether to organize this activity again in the future."
Political gatherings have been banned in Thailand since the military junta seized power from an elected government in May 2014. The ban also extends to academic seminars.
One of the soldiers observing the event told Khaosod that the students will not face any legal action because they "fully cooperated" with the soldiers' request to cancel the talk.
Nanthapong Panmas, a former Student President of Ramkhamhaeng University, said he was disappointed to see authorities block discussion of the junta's charter.
"This forum was about spreading knowledge," he told reporters. "I'd like to tell the government to let all universities open a space for students to express academic opinions."
Niran Pantarakit, the member of the junta's reform council invited to sit on the panel, said he was told by the organizers at around midday that the event would not take place.
"When I was contacted to join the talk, I didn't think there would be any problem at all, because it is just about explanation about the process of drafting of the new constitution, and about the process to amend the [current] interim constitution, so that the students will understand, and encourage them to ask questions," Niran said.
Thailand's Election Commission has tentatively scheduled the referendum for 10 January 2016. The military junta says elections will be held in September 2016 if the charter passes the referendum, but officials have not commented on what will happen if the charter is rejected.
The junta has also dismissed calls to lift its ban on political activities and campaigning, which has been in place since it staged a coup, to allow for free debate about the charter before the referendum.
For comments, or corrections to this article please contact:[email protected]
You can also find Khaosod English on Twitter and Facebook
http://twitter.com/KhaosodEnglish
http://www.facebook.com/KhaosodEnglish