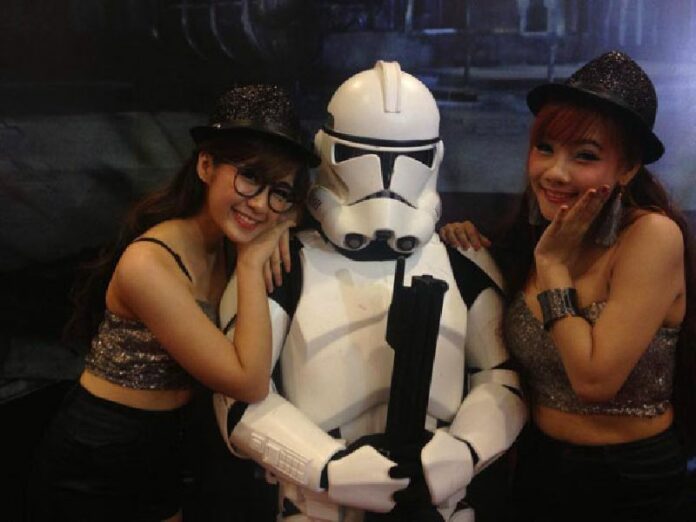 BANGKOK — A disturbance in the force of Thailand's appeal to foreign film productions has prompted its top tourism official to propose new incentives for filmmakers.
After unveiling a new cost incentive for foreign productions to film in Thailand, Tourism and Sports Minister Kobkarn Wattanawarangkul said today she was motivated to come up with the plan by the loss of a particularly high-profile production to England recently.
"I come up with this idea after I learn that Thailand missed being selected as a filming location for the new Star Wars film, which was eventually shot in Britain, because they offered better terms than Thailand. When Gen. Prayuth Chan-ocha knew about this, he felt very disappointed," Kobkarn told Matichon Online.
Shots of Phang Nga Bay in southern Thailand were used as the basis for the Wookie homeworld of Kashyyyk in Star Wars: Revenge of the Sith.
Under the new proposal she announced today, Kobkarn said foreign filmmakers would be refunded "15 to 20 percent" of their production costs if they came to Thailand.
Kobkarn said under the plan submitted to the junta cabinet for approval, the state will set aside 100 million baht to 200 million baht for the refund program.
Junta chief and PM Gen. Prayuth Chan-ocha might have felt the force of her persuasion, telling reporters his cabinet was indeed considering new incentive measures to draw foreign film companies
Without specifically addressing Kobkarn's proposal, he did mention a possible tax refund for such productions.
"There needs to be some incentive measures, because many movies that wanted to come to Thailand ended up not coming because there was ambiguity," Gen. Prayuth said. "That's why we need some incentive measures. I want everyone to help me think about it … this government wants to create job and money. If we don't pay attention at tax or give some tax refunds, those things won't happen."
Tax refunds are among the most common lures used to draw productions, which contribute to the local economy and also stimulate tourism. Fourteen years after "The Fellowship of the Ring" premiered, New Zealand is heavily visited by fans of Middle Earth, part of which was filmed there.
Thailand has long been a filming location for blockbuster films, turning some locations into favorite tourist landmarks. Ko Khao Ping Kan in Phang Na province is now widely known as "James Bond Island" after it appeared in 1974's "The Man With the Golden Gun." Maya Bay on Ko Phi Phi Lee drew a following after 2000's "The Beach," which also elevated the status of Bangkok's Khaosan Road on the map among international backpackers.
Kobkarn did not elaborate on the possibility of "Star Wars Episode VII: The Force Awakens" shooting in Thailand, and there does not appear to be any reference online to Thailand being considered for a location shoot. The last Star Wars film, 2005's Revenge of the Sith, featured scenes shot in Phang Na province to provide the background to the Wookie homeworld of Kashyyyk.
The biggest impact in recent years was from "Lost in Thailand," a 2012 Chinese comedy shot in Chiang Mai that precipitated a surge of tourists to the region.
Thailand has also doubled as Vietnam twice, in "Good Morning Vietnam" and another Bond film, "Tomorrow Never Dies."
However, some foreign film makers also run afoul with Thai authorities due to sensitive matters in their movies. For example, the Thai government did not allow Anna and the King (1999) to be shot or distributed in Thailand because of the film's depiction of King Rama IV.
Most recently, there was uncertainty whether authorities would allow a film shot in Thailand under the name "The Coup," later rebranded "No Escape," to show domestically.
Related stories:
No Ban For 'No Escape,' Movie Depicting Coup Filmed In Thailand
To reach us about this article or another matter, please contact us by e-mail at: [email protected].