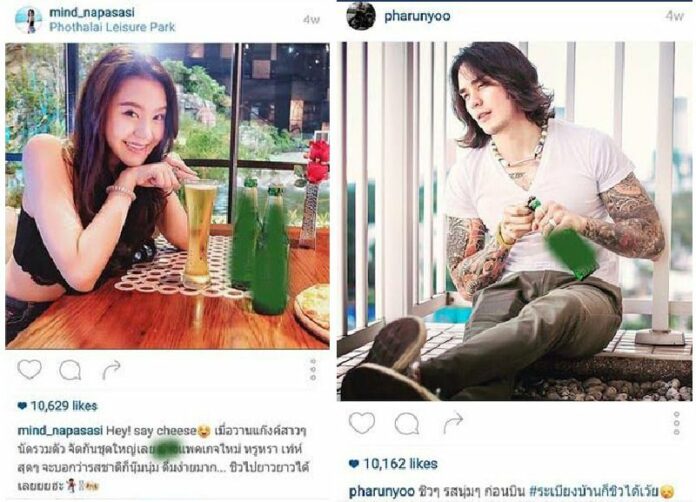 BANGKOK — The photos are made to look spontaneous and amateur, but the composition – brand labels carefully turned toward the lens – suggested otherwise.
The Ministry of Health said yesterday it will look into complaints by anti-alcohol groups that celebrities have been skirting the law in photos posted to Instagram.
"If the actors and singers say they didn't make money posting photos of alcoholic beverages, with clear brand logos plus captions encouraging drinking, or even just the photo alone, they would then, as an individual, be guilty of alcohol advertisement," said Kittisak Klubdee, an adviser to the public health minister. "But if they were hired, the beer company will also be punished."
In recent days, similar photos began appearing on the Instagram accounts of a number of stars including Virithipa "Woonsen" Pakdeeprasong, Yae "Non" Nonthaporn and Pharunyoo "Tack" Rojanawuttitham.
In all of them, a popular personality with a big online following holds bottles of beer in their hands along with an alluring caption aimed to praise Chang's new bottle design.
On Oct. 1, singer Pakorn "Dome" Lam posted a photo of him pouring a foamy glass of Chang with the caption "Let's the party begins." The singer later removed the photo from his account and insisted he did not get paid for it.
Similar images posted to Instagram accounts of Poomjai Tangsanga and Dome Pakorn Lam.
In a country that is heavily engaged in social media, it is common for entertainers to supplement their incomes by promoting products online. However advertising alcohol, or even showing a brand's logo to indirectly encourage drinking, is illegal under Section 32 of Thailand's 2008 Alcohol Control Act.
First bringing attention to the suspected marketing campaign was Facebook user Todd Piti, who called on related organizations to investigate.
Wearing a baseball cap turned around to show the Singha beer logo in his photo, "Todd Piti" is believed to be Piti Bhirombhakdi, heir to rival Singha Corp.
Singha is produced by Boon Rawd Brewery and Chang by ThaiBev. They are the two biggest competitors in Thailand's growing beverage business, expected to be more than 137,000 million baht worth in 2015.
According to Positioning magazine, Boon Rawd outperformed ThaiBev in 2014 with Singha holding a 58 percent share in the premium beer market and its Leo brand accounting for 72 percent of the mass market.
To reach us about this article or another matter, please contact us by e-mail at: [email protected].