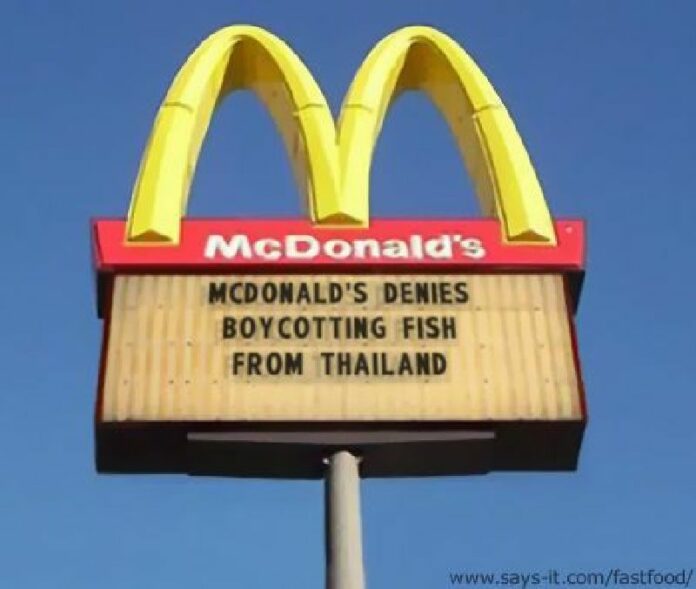 BANGKOK — McDonald's Thailand today denied rumors the multinational franchise did not use fish from Thailand due to the use of slave labor.
Responding to a fake photo of a McDonald's sign saying it was boycotting fish from Thailand – which inspired some online to threaten a counter-boycott in response – the fast food chain's local partner announced on Facebook page today that while it only imports fish from the U.S. state of Alaska, it does so just for the sake of great taste.
"Regarding the latest picture shared via social media, it's not a true story! Please carefully consider prior to sharing that one," read the post.
The viral photo on social media yesterday convinced some netizens their source of Filet-O-Fish is boycotting fishery products from Thailand out of concern about the use of slave labor in Thailand's seafood industry.
"We don't use fish caught in Thailand by slave labor in our fish sandwiches," it read.
Some were incensed.
"They're so clearly against us, so how can we still go to McDonald's? Think about it … Are you actually Thai?" read a comment circulated with the image online.
McDonald's isn't known for making political statements on the signs of its stores, and the photo was quickly exposed to be fake made by an online sign generator.
The original image circulated online
Thailand's seafood industry has been criticized internationally since its dark realities were exposed last year by investigative reports from major news outlets. Those reports contributed to Thailand being ranked again at the lowest level in an annual human trafficking report issued by the U.S. State Department.
The European Union has also warned that Thailand might be given a "red card" this month due to its failure to curb illegal fishing and labor abuse after the country was warned in April. The ban would severely affect the over 200 billion baht industry, which is heavily dependent on exports.
Related stories:
Greenpeace Calls Out Thai Union Group Over Fishing Practices
EU Warning on Illegal Fishing Has Thai Fishing Industry Reeling
Raid on Southern Fishing Pier Finds No Human Trafficking: Police