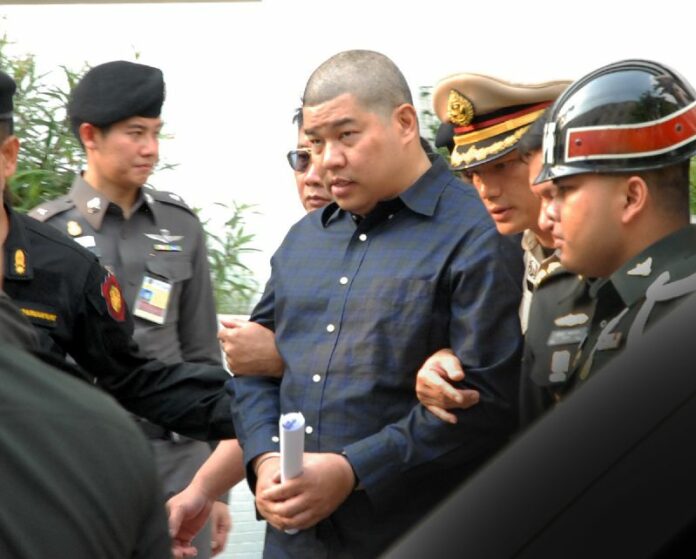 BANGKOK — Officials have already completed an autopsy of the lese majeste suspect who died in custody and have already returned his body to his family, the Minister of Justice said today.
Justice Minister Paiboon Khumchaya told reporters that police completed an autopsy of the inmate, Police Maj. Prakrom Warunprapha, at the prison hospital where he was taken Friday after after hanging himself. Prakrom's body, Paiboon said, has been handed over the body to his family.
"This case is now over, because the family already picked up the body," Gen. Paiboon said.
A former police officer in the online crime division, Prakrom reportedly hanged himself two days after he was taken to a martial court Oct. 21 and formally charged with lese majeste (insulting the monarchy) along with two other suspects. The trio was then placed in custody at the 11th Infantry Division base in Bangkok, which has been converted into a special prison for cases said to affect national security.
---
'Royal Imposters' Suspect Involved in Past Lese Majeste Crackdowns
---
Authorities on Saturday announced Prakrom had committed suicide in solitary confinement by hanging himself with prison garments. A statement released to the press by the Department of Corrections said a fact-finding committee would investigate Prakrom's death, and his body would be sent to the Forensic Medicine Institute at the Police Hospital for autopsy.
But Paiboon said today there was no reason for an autopsy to be conducted at the police hospital.
"In this case, the Department of Corrections invited a committee to verify [the death], which consists of a prosecutor, police, administrative officials and forensic medicine doctors, to examine the body to find the cause of death, and we have already issued a death certificate for him," Paiboon said.
"There was no need to send the body for examination at the Forensic Medicine Institute," he said.
Asked why no camera was installed to track suspects' movements in their holding cells, Paiboon replied that doing so risked violating their human rights.
"You have to look at whether it violates the inmates' human rights," Paiboon said. "The temporary prison is not a high-security prison. It's not a supermax like Khao Bin Central Prison, where they track movement of inmates all the time."
Prakrom and two other men, Suriyan Sujaritpalawong and Jirawong Watanathewasilp, were arrested Oct. 16 and accused of falsely claiming ties to the monarchy for personal gain.
---
Famous Astrologer Among Accused 'Royal Imposters'
---
They have been charged under Section 112 of the Thai Penal Code, a law also known as lese majeste, which outlaws any action or remark that damages the reputation of the Royal Family.
Speaking to reporters today, Paiboon also dismissed rumors on the social media that Suriyan is also dead. According to Paiboon, Suriyan did suffer from stress and high blood pressure, but he had already been sent to a hospital for treatment.
"I received a report just this morning that Mr. Suriyan requested congee as his breakfast," Paiboon said. "So, I don't understand people who spread this rumor, what kind of intentions they have."
Correction: The original version of this article misspelled the name of the Department of Corrections. We regret the error.
Note: A blanket ban has been issued on reporting this issue, apart from official announcements. Due to this, portions of this story have been self-censored.
To reach us about this article or another matter, please contact us by e-mail at: [email protected].
Follow Khaosod English on
and
Twitter
for news, politics and more from Thailand.