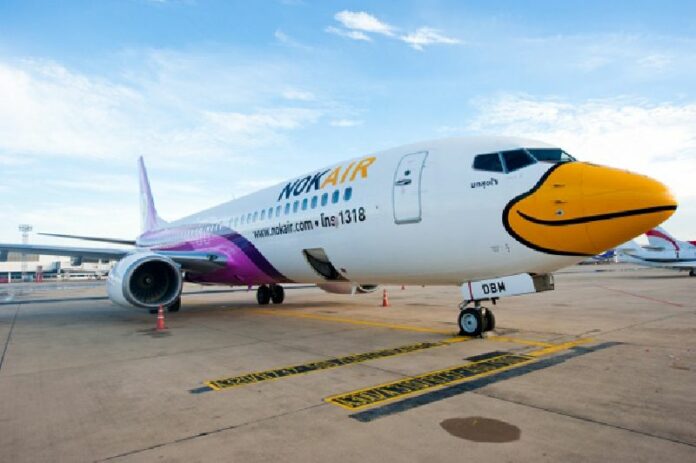 BANGKOK — Nok Air has been warned it could lose its license if it repeats the poor handling of a crisis that left hundreds of passengers stranded Monday as the airline denies a former manager's accusation that it has been using unqualified trainees to fly its planes.
The Tuesday warning from the Ministry of Transport came a day after representatives of the budget airline failed to show up at a meeting to discuss solutions to the situation that left more than 1,500 passengers stranded Sunday.
"When this kind of incident happens, the CEO or top executives must take responsibility immediately," government spokesman Maj. Gen. Sansern Kaewkamnerd said. "But in this case, there were only lower rank staff members trying to solve the situation."
Meanwhile a pilot who served as the airline's manager of flight standards – and was fired Tuesday – accused his former employer of violating regulations.
Sanit Kongpetch said Nok failed to deal with a pilot shortage and instead has been posing unqualified trainees as pilots. He said the airline failed to hire adequate numbers of pilots for its flights since there were at least 30 pilots resigned last year.
Nok Air CEO Patee Sarasin this afternoon dismissed the accusation, saying all of the airline's pilots are qualified in accordance with international standards, and that the airline has enough pilots as it reduced its number of flights.
The CEO said it would violate regulations to field unqualified student pilots as Sanit alleged because they must be authorized by Department of Civil Aviation.
The Civil Aviation Training Center and Department of Civil Aviation could not be reached for comment.
Nok Air was called in by the government Tuesday for a stern warning. Minister of Transport Akom Termpitayapaisit said Nok's license will be suspended if an incident such as Sunday's happens again and will be revoked after a third offense.
The airline, whose major stakeholder is Thai Airways International, was given until Thursday to submit immediate contingency and risk management plans.
At least five flights were abruptly canceled on Sunday. The airline quickly blamed striking pilots who failed to meet heightened standards; the pilots denied organizing a work stoppage and accused the airline of trying to paper over internal issues.
Patee said Tuesday that his airline now has only 130 pilots due to many leaving for other airlines during the past year.
"After some pilots resigned, we have been reducing flights by 10 percent to 15 percent," he said. "Hence it was our weakness that caused a problem when pilots suddenly took leave together on the same day."
Patee said he did not solve the matter in a timely fashion because he was out of town with his wife for Valentine's Day and failed to delegate authority to other executives.
The CEO further explained the airline's woes on the Chinese zodiac.
Three company executives were born in the Year of the Tiger, the airline CEO explained, which makes for great misfortune in this Year of the Monkey. To turn things around, Patee said the executives plan to make merit together at a temple.