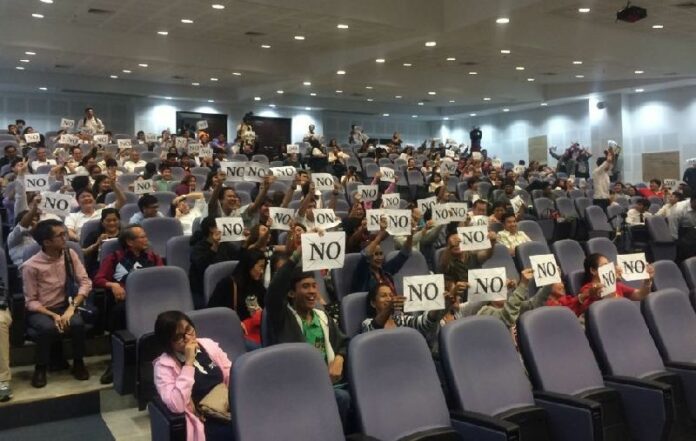 By Pravit Rojanaphruk
Senior Staff Writer
BANGKOK — A dozen men and women stoically push on, deliberating what should be amended in nearly every article of law proposed for the kingdom's future. While they could almost be mistaken for members of the junta-appointed Constitution Drafting Committee, they are not.
What's more, these shadow framers, who've labored over proposals to improve the proposed constitution before it goes to voters in July, are all but resigned to the fact their recommendations will be ignored by the committee's real framers. Yet they go on, believing their parallel process of deliberation is one they are duty-bound to complete and essential to a functioning democracy.
"I don't have any hope that what we propose will have any impact on them," said prominent human rights lawyer Somchai Hom-laor, one of the dozen participants who met Feb. 9 at the Law Reform Commission of Thailand in Bangkok to finalize their suggested improvements to the first draft released late last month.
"Seeing [the proposals] lead to amending the draft charter is among our final steps. It empowers our network, however," said Somchai, referring to the meeting spearheaded by former election commissioner Gothom Arya.
Specific suggestions raised during the day's deliberations on the charter included reintroducing community rights, calibrating the senate selection process, strengthening press freedoms and improving its overall clarity for the general public.
One participant said a male member of the charter drafting committee estimated no more than 1,000 Thais have read the first draft in full. It's thus a challenge, she said, to simplify the final draft to be more accessible to more people who are not experts in such matters.
The meeting ended late in the afternoon with all the proposals collected for the drafting committee. Those proposals were formally submitted Friday.
If adopted, the draft charter would become constitution No. 20 for Thailand after the previous was nullified by the military coup in May 2014. It's being promoted by junta sponsors as a means to turn back the endemic corruption in politics. Its critics say it enshrines an undemocratic system to shut out the political influence of fugitive former prime minister Thaksin Shinawatra and his proxies.
Despite low expectations their recommendations will be taken seriously by the charter drafters, Gothom, a lecturer at Mahidol University's Institute of Human Rights and Peace Studies, said the group will only go through proper channels to be heard. He said the group itself will not seek to lobby anyone on the committee for special consideration of their proposals.
Those participating in the exercise with him, however, are welcome to reach out on a personal basis, he said.
"As the organizer, we must use the normal channels, but if you have other channels, you may use them," said Gothom.
Laddawan Tantivitayapitak, secretary general of the Law Reform Commission of Thailand, is also active in the deliberation process. She told Khaosod English last week she's already made up her mind: She's going to reject the draft charter when it goes to vote July 31, even though its second and final drafts have yet to be revealed.
Raewadee Prasertcharoensuk, a veteran community development worker, insisted all is not lost.
"It's not about what we propose, but what we make public and communicate through the mass media. We can also rely on informal channels. But what we're doing is not a secret, and we need to directly communicate [to the public] too," she said.
Poonsab Piya-anand, a retired bureaucrat, said she the key thing is to make the group's proposals known to the public, regardless of their direct impact on the drafting process. Still, members are free to try.
"Whether someone can lobby or not is a separate matter," she said.

Related stories:
Charter Vote Risks Being 'Laughing Stock' Poll Monitor Says
Junta Threatens to Summon Critics of Charter Draft
Charter Gets Broadcast Boost, But Criticism Will Not be Televised
Charter's Uncertain Fate Mirrors Junta's Own Lack of Confidence
The Quixotic Quest to Alternative Charter Drafting
Pravit Rojanaphruk can be reached at [email protected] and @PravitR.
Follow Khaosod English on Facebook and Twitter for news, politics and more from Thailand. To reach Khaosod English about this article or another matter, please contact us by e-mail at [email protected].