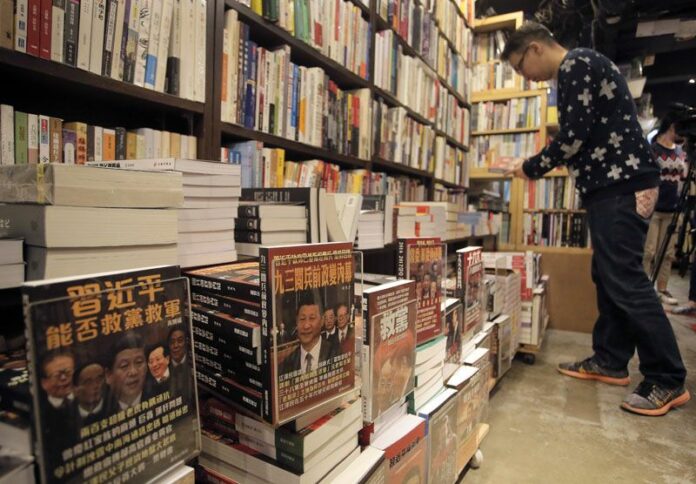 HONG KONG — For decades, Hong Kong thrived as an Asian business hub thanks to its killer combination of Western freedoms, independent courts and closeness to mainland China's booming market. Now political and economic ills from the mainland are eroding that edge.
Swedish-Chinese author Gui Minhai was counting on Hong Kong's freedoms when he chose the city as the base for the publishing empire he has built up over the past decade, churning out exposes on elite Chinese politics that were snapped up by visitors from mainland China, where they are prohibited.
The recent temporary disappearances of Gui and four colleagues, including his British chief editor Lee Bo, rising political volatility and slowing growth in China are undermining confidence in Beijing's promises to leave the city's freedoms intact for a half-century after taking control of Hong Kong in 1997.
Local frustrations will likely intensify as the city's pro-Beijing elite prepares to choose a new leader for the specially administered Chinese region next year.
In unusually blunt comments, Financial Secretary John Tsang predicted recently that Hong Kong's economy would eke out its smallest expansion in four years in 2016.
"Politics and economics are closely intertwined. Political volatility will unavoidably impact on our economy," Tsang said in his budget speech last month. Tension and turbulence have left many in Hong Kong feeling suffocated by an confrontational atmosphere, said Tsang, warning of "even greater chaos" ahead if tensions aren't resolved.
Hong Kong remains wealthier and freer than the mainland, but the city of 7.2 million is riven with inequality and faces growing competition from other Chinese business hubs like nearby Shenzhen and Shanghai. Meanwhile, Chinese President Xi Jinping has sought to crush dissent in other regions like Xinjiang and Tibet, showing little sympathy for the yearning among many in Hong Kong for greater democracy.
Investors aren't rushing for the exits yet, but in the financial industry, backbone of the economy, the mood is darkening.
"If Hong Kong is gradually being taken over by all these Chinese business practices and also politically there's more and more pressure and influence coming from mainland China, this will definitely destroy Hong Kong in the end," said Edward Chan, an investment fund manager.
Foreign investors might start to "think that if Hong Kong does not have rule of law or anything, why don't they just move their investment directly to Shanghai or Beijing? What's the difference?" he said.
As Beijing increasingly opts more for the "one country" part of the "one country, two systems" framework guaranteeing its separate legal and financial systems until 2047, Hong Kong is paying a price.
Dimming Hong Kong's image as a global financial center, HSBC decided in February not to move its headquarters from London back to Hong Kong despite a restructuring focused on "pivoting" toward Asia. The Hongkong & Shanghai Banking Corp. was founded in the city in 1865 and shifted its headquarters to Britain in the early 1990s.
In explaining its choice, HSBC did not refer to China, though lauded Britain's "internationally respected regulatory framework and legal system."
On Mar. 12, credit rating agency Moody's Investors Service cuts Hong Kong's outlook to negative from stable, citing rising political risks and China's slowing growth. It had downgraded China's rating two weeks before.
"Increasing political linkages are likely to weigh on Hong Kong's institutional strength," the agency said. "In addition, the risks to China's economic and financial stability may also undermine Hong Kong's own economic and financial outlook."
Hong Kong's freedoms were on global display in late 2014, when hundreds of thousands of people took to the streets, blocking busy thoroughfares for 79 days to protest Beijing's plan to restrict elections. The peaceful protests highlighted discontent with China's influence among local youths, but also among older Hong Kong citizens, many of whose families fled past political turmoil in the Chinese mainland.
More recently, the independent film "Ten Years" was a surprise hit with its dystopian portrayal of the eradication of the city's Cantonese-language identity under Beijing's rule a decade from now.
Activists defending local culture from mainland Chinese influence clashed with police last month when authorities ordered fishball vendors, a traditional fixture during the lunar new year, off the streets of gritty Mong Kok.
Steve Vickers, chief executive of political and economic risk consultancy SVA, said requests for information and help with crisis preparedness spiked after the Mong Kok riot. Political polarization and the slowing economy are threatening Hong Kong's reputation, while China's slowdown could worsen tensions by pushing up unemployment and hurting property prices, he said.
"Any economic weakness would surely stoke political anger, given the social grievances that underpinned recent protests," Vickers said.
The bookseller disappearances shocked many Hong Kongers because of suspicions that mainland Chinese security agents snatched Lee and spirited him across the border, violating Beijing's promise to stay out of most local affairs including law enforcement. Gui apparently was apprehended in Thailand and taken to mainland China.
Many ethnic Chinese in Hong Kong hold foreign passports as a sort of "insurance policy" in case of a crisis. The difficulties Britain and Sweden faced in getting consular access to Lee and Gui raised doubts about that strategy.
Chan, the investment fund manager, holds a Canadian passport. "Now it's totally useless," he said. "This passport is not going to protect me in any sense if the Lee Bo case is going to re-occur again."
Three of Gui and Lee's colleagues are now free on bail in the mainland, but the pair appear to be still detained without charge. They both surfaced briefly on Hong Kong-based pro-Beijing Phoenix TV, where Lee said he was aiding an investigation while Gui tearfully confessed to an old crime — having fled overseas to avoid a suspended two-year prison sentence for a fatal drunk driving accident. Their Causeway Bay Bookstore remains shuttered.
The booksellers' case shook the relatively freewheeling publishing industry in Hong Kong, whose status as a base for independent-minded financial research could suffer if investment banks with business interests on the mainland avoid releasing reports critical of Chinese state-owned companies or the economy, said Chan.
Simon Baptist, chief economist at the Economist Intelligence Unit, whose latest global cost of living survey ranked Hong Kong No. 2, said companies would likely pay closer attention to Hong Kong's fragile press and judicial freedoms when deciding whether to deploy staff or investment here.
"Hong Kong is still one of the freer places in Asia," Baptist said, "but perhaps that gap, that advantage, it has is narrowing."
Story: Kelvin Chan / Associated Press