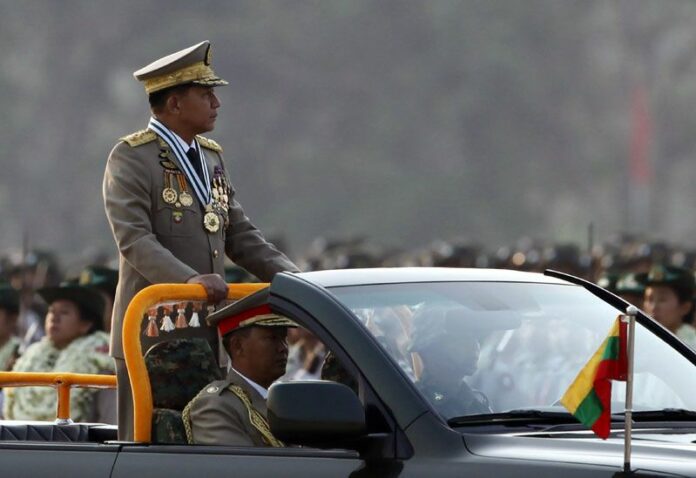 NAYPYITAW, Myanmar — Myanmar's military chief on Sunday pledged to join hands with a new civilian government that takes over the Southeast Asian country next week, after 54 years of rule by the junta or its proxy.
Senior General Min Aung Hlaing said that the armed forces will work to bring about prosperity for the nation but also warned about challenges.
"The two main hindrances to democratization are not abiding by the rule of law and the presence of armed insurgencies. These could lead to a chaotic democracy," he said in a speech during the annual Armed Forces Day parade in the capital of Naypyitaw.
Myanmar's military ran the country directly or indirectly for five decades before handing over to a quasi-civilian government in 2011. Last year's elections propelled Aung San Suu Kyi's National League for Democracy into power, although the military remains a powerful political force.
Suu Kyi's aide, President-elect Htin Kyaw, will take office next Friday.

Tanks are driven during a parade to commemorate 71st Armed Forces Day on Sunday in Naypyitaw, Myanmar. Aung Shine Oo / Associated Press
The relationship between Min Aung Hlaing and Suu Kyi is likely to be the key to the next five years in Myanmar. The Nobel Peace prize laureate is still barred from the presidency by a clause in the military-drafted constitution that was almost certainly aimed specifically at her.
The military also has reserved 25 percent of the seats in parliament for itself, guaranteeing that no government can amend the constitution without its approval. It also ensured that one of Htin Kyaw's two vice presidents is a former general, Myint Swe, a close ally of former junta leader Than Shwe.

Military officers atop trucks loaded with missiles salute during a parade to commemorate 71st Armed Forces Day on Sunday in Naypyitaw, Myanmar. Photo: Aung Shine Oo / Associated Press

Story: Associated Press