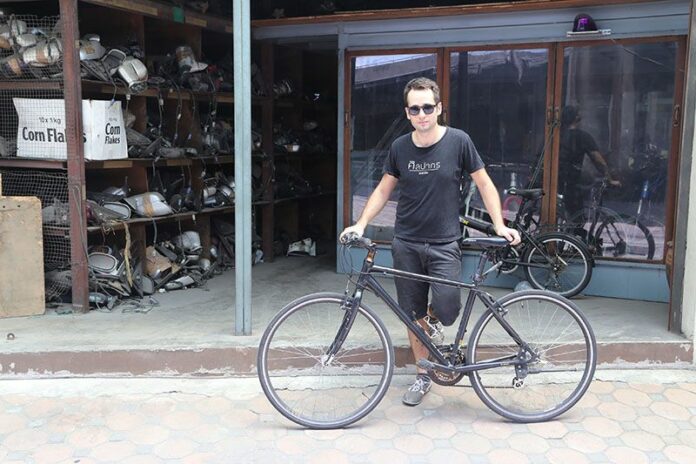 BANGKOK — Gabriel Camelin needed to get from an evening meeting downtown to King Mongkut's University of Technology Thonburi late last month, so he locked up his Doppelganger DG832 Shadow under BTS Ratchathewi.
When he returned later to find it stolen, the 32-year-old digital communication design professor knew exactly where to find a replacement. Several months prior, he was wandering by an otherwise unassuming shophouse on Rama III Road when he noticed a nice bike with a price scribbled on a sheet of paper taped to its handlebars.
When he returned April 30, four days after his bicycle was stolen, Camelin inquired about the bikes on display at Non See. That's when its owners, an older Thai man and his daughter, brought him inside to a workshop where hundreds of bikes are assembled, repaired, and cleaned up. He scored a Momentum bicycle in great condition for a very fair price of about 4,500 baht.

All of the shop's stock of bicycles come in semi-regular shipping containers from Japan. The bikes are broken down in Japan, wrapped in newspaper, and strategically piled into a container. When it reaches Bangkok, they are transported to this shophouse in the capital's Khlong Toei district, where customers come and take dibs.
Some, like Camelin, just want a bike to get from point A to point B. Others are collectors, sifting through the mass of metal and rubber in hope of finding a lugged steel Nagasawa track bike, or vintage Kalavinka frame.
On a visit this past Thursday, Camelin had returned to pick up a mud flap in for his rear tire in preparation for the rainy season. He scored one on the cheap.
Just a few days earlier the latest shipping container had been unloaded. The ground was still littered with the discarded Japanese newspaper pages used to wrap the bicycles, shredded and left by the frenzy of collectors who storm the shophouse in search of bicycles with heritage and history whenever a new container arrives.
Modern bicycles from the mid-2000s also turn up in the lot, like American Cannondale mountain bikes and Italian Bianchis. Prices range from 1,000 baht for early '90s heavy steel junkers that need lots of work, all the way to 15,000 baht for like-new mountain bikes from premier manufacturers.

Hok, the employee who moderates the throngs of bicycle enthusiasts picking through the lot, told us the containers come every two months, but their arrival is getting more and more unpredictable. It takes a long time to unpack and reassemble all the bicycles, so there is a steady supply of stock. Prices are negotiable, and there are some true diamonds in the rough.
A lot of the bikes will require a little retooling and tuning, but the staff on hand make sure they all function well before leaving the shop.
Selling bicycles out of a dimly lit shophouse in Khlong Toei may sound fishy, but Hok told us they never buy bicycles from Thailand for resale for fear they might be stolen. All bicycles sold here are strictly from Japan.
Looking for a new bike or just curious? The shophouse can be accessed on Rama III Road, or by heading down Soi Rama III 79. Set your NavCom to this location. It's got phone numbers listed as 0-2671-0206-10 and 0-2249-4749-50. A website which customers say will announce when the next container is due, www.non-see.com, appears to be down.