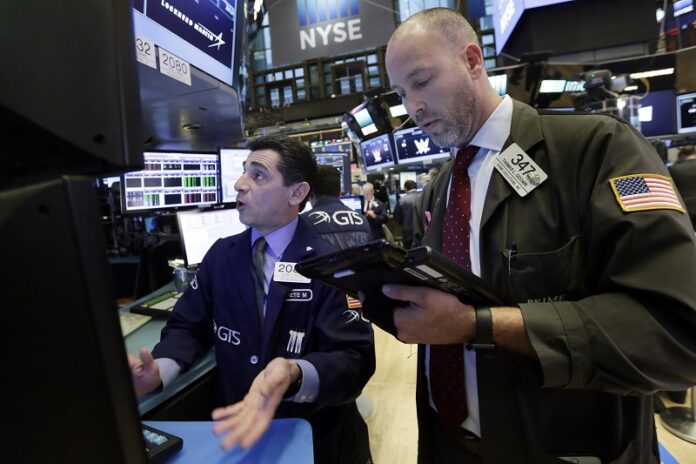 BEIJING — Asian stock markets rose Tuesday after Wall Street sank on worries the Trump administration might not do as much for businesses as once thought.
Keeping Score
Tokyo's Nikkei 225 gained 1 percent to 19,175.48 and Hong Kong's Hang Seng advanced 0.5 percent to 24,308.32. The Shanghai Composite Index declined 0.4 percent to 3,252.81 while Sydney's S&P-ASX 200 added 0.2 percent to 5,806.20. Seoul's Kospi rose 0.2 percent to 2,159.35 and benchmarks in Taiwan and Singapore also rose. Malaysia and Manila declined while New Zealand was unchanged.
Wall Street
Worries that Washington may not be able to help businesses as much as once thought knocked stock indexes down hard early Monday, but they clawed back most of their losses and ended the day mixed. The Standard & Poor's 500 index fell 2.39 points, or 0.1 percent, to 2,341.59 for its seventh drop in the last eight days. The Dow Jones industrial average sank 45.74 points, or 0.2 percent, to 20,550.98, while the Nasdaq composite index rose 11.64, or 0.2 percent, to 5,840.37. When trading opened for the day, it looked as if losses would be much worse. The S&P 500 sank from the start and was down as much as 0.9 percent.
Trump Slump
Last week's failure by Republicans to repeal the Affordable Care Act, which they have pledged to do for years, raised doubts Washington can push through other promised changes to help businesses. Investors have been anticipating that President Donald Trump and the Republican-led Congress will cut taxes, loosen regulations for companies and institute other corporate-friendly policies.
Analyst's Take
"Markets appear reluctant to take the Trump disappointment too much further at this stage," said Ric Spooner of CMC Markets in a report. "With U.S. economic growth showing signs of improvement and the Fed clearly embarked on a monetary tightening cycle, the significant correction that has already occurred in bonds and the U.S. dollar may already reflect an adequate wind back of the market's Trump exuberance."
Oil Sinks
Oil prices have sagged below USD $50 – a boon to importers but a blow to developing countries that rely on crude sales to pay for imports. Benchmark U.S. crude could fall to USD $40 per barrel before tight oil producers cut back and supply stops increasing, said Carl B. Weinberg of High-Frequency Economics in a report. "Oil-producing emerging economies will earn less foreign currency," said Weinberg. "This will impair their ability to import: World trade will resume its persistent decline."
Energy
Benchmark U.S. crude gained 24 cents to USD $47.97 per barrel in electronic trading on the New York Mercantile Exchange. The contract fell 24 cents on Monday to USD $47.73. Brent crude, used to price international oils, rose 19 cents to USD $51.09 in London. It lost 2 cents the previous session.
Currency
The dollar was unchanged at 110.65 yen. The euro edged down to USD $1.0863 from USD $1.0864.
Story: Joe McDonald