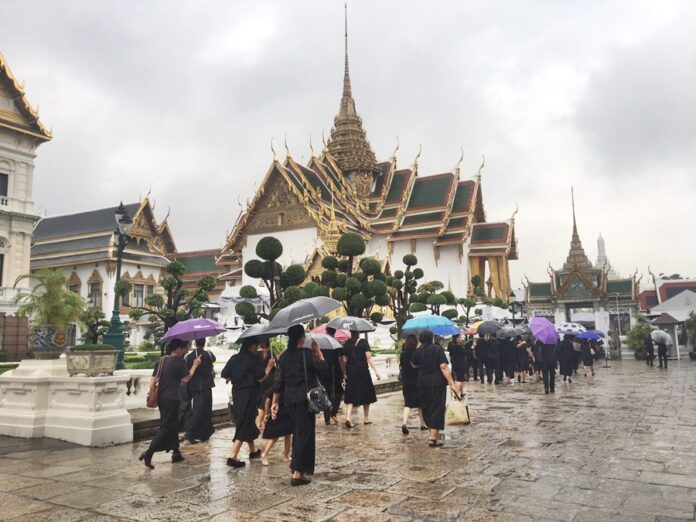 BANGKOK — Instead of airing a dramatic tale of tragic romance among ancient northern royals three nights a week, Channel 3 is broadcasting "Rak Nakara" every night to rush it to completion by Oct. 3.
There will be no entertainment and a lot less advertising online and over the airwaves next month as websites and broadcasts go monochrome and things are toned down on all platforms to show respect for His Majesty, the late King Bhumibol.
The military government on Tuesday told news agencies to refrain from airing entertainment content all through October in the run-up to the royal funeral. Meanwhile media and advertising associations are suggesting an advertising blackout to show respect for the late monarch.
While there's no question of voluntary compliance, the blackout will hurt already slumping ad sales this year.
"To sell goods, it will be hard, because they will have to tone down color of their ads, and some goods might not be appropriate at all," Triluj Navamarat, chairman of Media Agency Association of Thailand said Tuesday. "But no matter what, the way I see it, October will definitely be lower than other months."
Read: As Advertising Goes Dark, Industry's Bad Year Turns Worse
Triluj said ad revenues for this year were already down 6 percent to 7 percent compared to 2016.
"Once October is here, they will decrease further – a lot more," he said. "By the end of this year, it could hit 11 percent."
It's been a bad year for advertising. After hitting a six-year peak in 2015 with 122.2 billion baht in total sales, the market fell precipitously last year by 11 percent to 107 billion baht, according to data from Nielsen. If Triluj's estimate of a 6 percent to 7 percent decline next month comes to be, it would mean a loss of nearly 400 million baht, based on last year's revenues for the same month.
King Bhumibol, who died last October after more than six decades on the throne, is set to be cremated Oct. 26 in massive funerary rites. Even in death, the late monarch is still widely revered, and authorities have called for uniform shows of respect.
On Friday a minister instructed all TV stations to refrain from showing entertaining, "inappropriate" or "humorous" programming from Sunday onward.
Omsin Chiwaphruek, the minister in charge of the Prime Minister's Office, previously told reporters TV stations must also go into black-and-white mode Sunday through Oct. 20.
The following 10 days must be dedicated to showing documentaries honoring the late king and coverage of the cremation ceremony, he said.
On Tuesday the Cabinet reinforced the message with a resolution calling for the media and businesses to "stop or reduce entertainment activities" in October.
In lieu of this policy, Channel 3 is rushing its prime soap opera Rak Nakara, a love tragedy involving ancient royals in the north, to end by Oct. 3. Instead of broadcasting the show three days per week as usual, the channel is now showing it every night.
Media Blackout
More-detailed guidelines have been published by ads and online media associations.
The Digital Advertising Association of Thailand suggests ads run 40 percent desaturated of color between Oct. 13 – the anniversary of King Bhumibol's death – and Oct. 24.
For the period of Oct. 25 to Oct. 27, at the finale of the cremation ritual, the association advises no visible ads at all. The only acceptable form of advertising will be somber messages of condolence to King Bhumibol on behalf of brands and corporations.
But a guideline published by Society of Online News Providers advises against placing any ads Oct. 13 or Oct. 21 to Oct. 29, except for paid condolences.
The group also requests news agencies change the graphics and backgrounds of their websites to black-and-white or add symbols or messages of condolence in prominent positions.
Furthermore, social media account profile pictures of each news agency should be changed to correspond with the mourning period, the guidelines say.
Voluntary But Expected
Similarly toned down looks and an ad freeze were imposed across media agencies in Thailand in the wake of King Bhumibol's death last year.
Association chairwoman Kanokporn Prasitphon said trade guilds such as hers came up with the guidelines to ensure a unified appearance by ad and media agencies.
"Once we have guidelines, each of us can focus on our business methods directly and clearly, instead of having vague ideas." Kanokporn said. "Once we implement changes to our website, we will already have answers to questions about complying with the guidelines."
She added that the industry's guidelines are non-binding, but she believes every media agency will adopt them.
Any breaks from the code could backfire.
"Once the climate is here, the media will refrain from certain things anyway," Kanokporn said. "Because of the occasion, even if they wanted to place ads, they wouldn't be popular anyway."