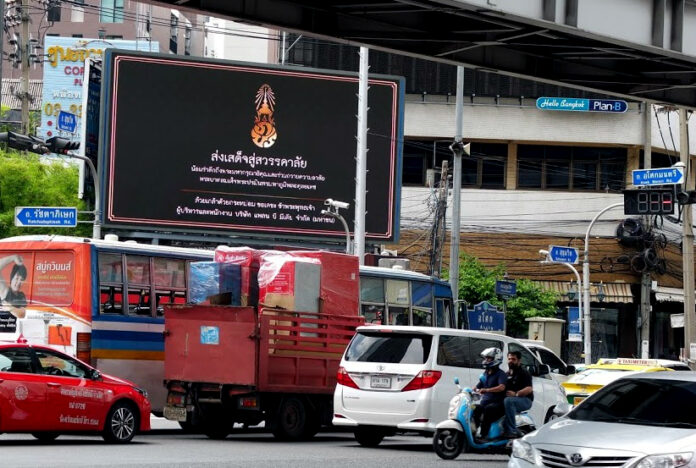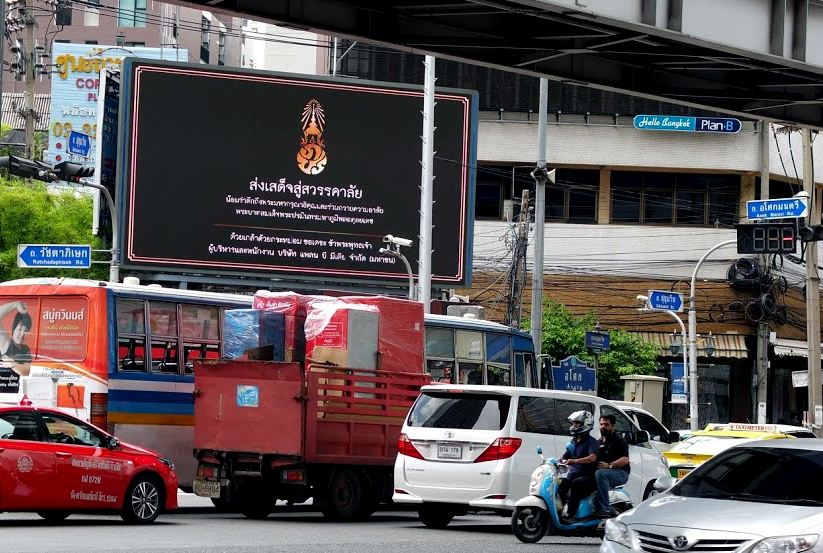 BANGKOK — On the BTS Skytrain, normally loud advertisements have gone silent ever since the death of His Majesty the King, replaced on all screens with a poem dedicated to mourning his death.
While that may be good news to commuters, advertising agencies said Monday they foresee a fall in revenue as Thailand embarks on a year of mourning. Though there is no official ban, parties from advertising agencies to brands have agreed it is inappropriate to promote commercial interests.
"We are now estimating the situation day by day," said Triluj Navamarat, chairman of the Media Agency Association.
Triluj said their most optimistic assessment was that advertising spending on all platforms would shrink by 7 percent; with October revenues down by a third of estimates.
National advertising for the first half of 2016 was 55 billion baht, which was already down nearly 8 percent over the previous year, according to Nielsen data cited in July by Positioning Magazine, a trade publication.
By Friday, most of the billboards in town were replaced by tributes to the late King. Campaigns were quickly dropped from radio, television and newspapers.
The marketing pause also hit the ostensibly borderless internet.
Facebook and YouTube have temporarily halted all advertising in the Thai market to show sensitivity. Like others, they are taking a wait-and-see approach and not saying when it will resume.
"Today some businesses started to advertise in newspaper, but their ads were still about expressing condolences for the late King," Triluj said.
Ritthisak Wongpan-ngam, a social media planner from the CJ Worx agency, said he began working Wednesday on updated profiles, cover photos and other content for clients' Facebook pages in preparation for Thursday's bad news.
He also advised his clients to halt every activity and let their fanpages go dark for at least a month, as it is difficult to predict when the public will be ready return to normalcy.
"We'll decide again based on people's moods at that time," he said. "We think it's safe to say that the safest time to launch anything is after Dec. 15."
However Ritthisak said most activities were not scrapped but put on hold. Some were being reworked to be flexible and launchable at any time under these circumstances.
"Some clients pushed their plans back until January because they feared that launching something before Nov. 15 would still be somewhat insensitive," he said. "And also there's Father's Day coming up too."
His Majesty the Late King's 89th birthday would have been Dec. 5.
Triluj said his association was now monitoring all media channels to keep its members updated on what opportunities exist for marketing. He said the decision to put some commercials out was up to the brands and media to weigh the appropriateness.
As for long-term prospects, the chairman said it was too soon to tell.
As the whole industry has struggled with revenue shortfalls this year, Ritthisak said everyone is philosophical about it.
"The bright side is that everyone is on the same page and very understanding toward each other, as this is a very difficult time for all of us," he said.

Related stories:
Entertainment Behind Closed Doors Okay, Gov't Clarifies
Govt Deplores Foreign Media Coverage, BBC Coverage Blocked
Hotels Reconsider Lavish NYE Party Plans
Ultra-royalists Guilt-Shame People Who Don't Wear Mourning Black
Bangkok, Famed Capital of Free-Wheeling Fun, Goes Dark Indefinitely (Photos)
Celebrities Mourn Death of King Bhumibol
Crown Prince Leads King Bhumibol's Funeral Procession
Black Friday: Crowds Throng Palace For Final Glimpse of King (Photos)
Crown Prince Not Ready to Take Throne Yet, Prayuth Says
Prayuth Calls for Year of Mourning for King
Grief Pours Out Home and Abroad for Death of King Bhumibol