BANGKOK — The colors that once polarized Thailand were red and yellow. Now, as the nation enters its year of mourning, the division appears between black and non-black, with reports of some hard-line mourners berating people in who do not wear black in public.
The harassment, reported by both eyewitness and social media accounts, comes at a time of heightened sensitivity following the death of His Majesty King Bhumibol, who was widely revered throughout his reign of 70 years. Several foreign governments have already warned their citizens of the need to be extra-tactful to avoid confrontation with Thais.
Read: What We Can Expect For King Bhumibol's Funeral Rites
An example of this trend is Facebook user Hnong Teeaun Chongcharoenchaikul, who posted a photo Saturday of a man in a red shirt eating congee and criticized him for the alleged lack regard for the late King.
"What was your heart made of? What were you thinking when you wore this bright colored shirt to leave your home?" Hnong Teeaun wrote in a public post which soon went viral.
The man in the photo later identified himself and posted that he simply wore something casual to get quick food in his soi after a long day among those mourning the King's funeral procession on Friday.
"#IRegretMyWrongdoing," wrote Winny Thanawin.
Hnong Teeaun eventually deleted his post and apologized to Winny.
Well-known cartoonist Narong Jarungthamchot, who goes by his penname Kuat Kaihuaror, wrote online that two diners at a restaurant on Saturday hissed at him for wearing grey striped shirt. "Evil, he's probably not a Thai, look at his shirt," Narong quoted one of them as saying.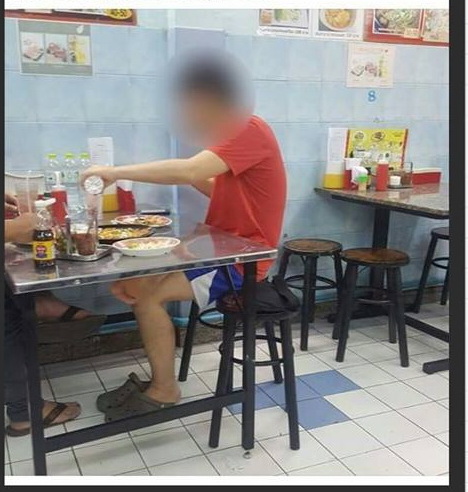 Confrontation also broke out in the real world. One eyewitness in an incident on Saturday said he saw a pick-up truck driver shouting at a messenger on a motorcycle during a traffic jam on Ratchadamnoen Avenue for not wearing black. The messenger was wearing his uniform of green jacket.
The motorcyclist responded by zipping down his jacket to reveal a black shirt inside, and the pick-up truck driver was satisfied by the sight before driving away on the green light, said the eyewitness, who requested anonymity for fear of persecution.
"I was stunned. I mean, whoa, are we this serious?" the person said.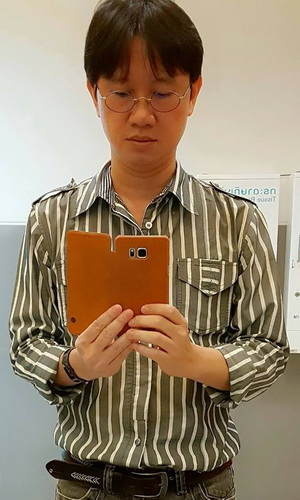 A statement published by Tourism Authority of Thailand advised foreign tourists to be culturally-sensitive while visiting Thailand during the national mourning. Travel advisories posted by the UK and Australian governments also urged their citizens to avoid any behavior that could be interpreted as disrespectful.
The monarchy has always been a sensitive subject in Thailand. Any discussion or remark deemed offensive toward the royal family is not only considered taboo, but banned under lese majeste, which carries a maximum penalty of 15 years in prison.
On Friday night a large crowd gathered in front of a soy milk shop in Phuket province to protest the owner's online remarks which allegedly defamed the monarchy. The mob only dispersed after police promised to pursue charges against the shop owner. A similar protest broke out in Phang Nga province Saturday night.
Against this tide of hyper-royalism, some prominent commentators and Facebook pages are calling for understanding and tolerance for those who do not wear black. One reason for not wearing the mourning could be the sudden high price of black shirts, they said. Some markets are selling the shirts as expensive as 500 baht, as opposed to the usual price of 150baht to 200 baht.
In a post that has been shared more than 9,700 times, Facebooker Ratthakorn Jintaniti wrote that a vendor in his neighborhood is one of many who did not wear black simply because she could not afford one.
"At this time, everyone is equally sorrowful. Whether we are rich or poor, it's still a great loss," Ratthakorn wrote. "Some people can express it, they have black shirts to wear, but some don't, and they're trying to do so. Necessities of people are different. Please don't judge anyone based on their shirt colors."
The government is recognizing this matter too. An official from the Ministry of Commerce told reporters on Saturday that price-gouging is punishable by up to seven years in jail.
Anyone who spots black shirts being sold at unreasonably high prices are encouraged to alert the ministry via hotline, said Nuntawan Sakuntanaga, director of the internal trades department.
Related stories:
Bangkok, Famed Capital of Free-Wheeling Fun, Goes Dark Indefinitely (Photos)
Celebrities Mourn Death of King Bhumibol
Crown Prince Leads King Bhumibol's Funeral Procession
Black Friday: Crowds Throng Palace For Final Glimpse of King (Photos)
Crown Prince Not Ready to Take Throne Yet, Prayuth Says
Prayuth Calls for Year of Mourning for King
Grief Pours Out Home and Abroad for Death of King Bhumibol