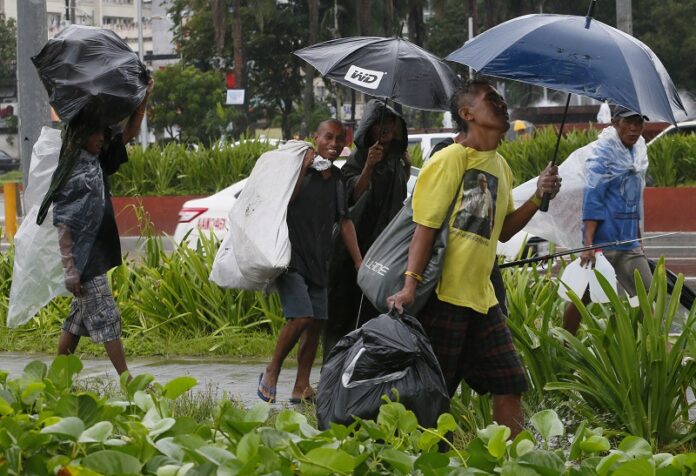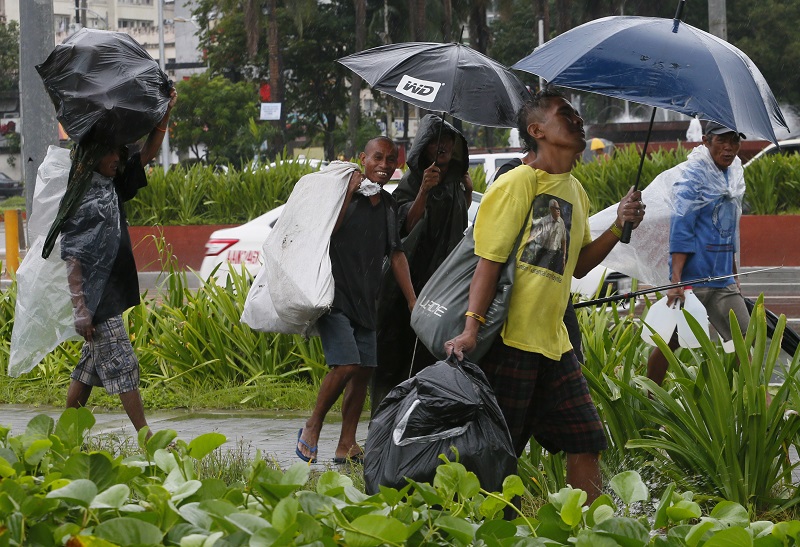 MANILA — A powerful typhoon slammed into the northeastern Philippines on Sunday, leaving at least two people dead, knocking out power and isolating villages amid floods and toppled trees.
Typhoon Sarika, locally known as Karen, blew into Aurora province early Sunday and was barreling fast through heavily-populated agricultural provinces, including landslide-prone areas, with sustained winds of 130 kilometers (80 miles) per hour and gusts of 220 kph (136 mph).
It was forecast to blow out of the main northern Luzon island by midday into the South China Sea. A separate storm has been spotted far out in the Pacific and may strengthen as it heads toward the Philippines this week, according to the government's weather agency.
Nearly 10,000 villagers fled their homes in Sarika's path and were taken in more than 100 emergency shelters, Welfare Secretary Judy Taguiwalo said.
Mayor Nelianto Bihasa of Baler, a popular surfing town in Aurora, said howling wind ripped tin roofs off many houses and knocked down trees and electric posts, causing power outages and blocking access roads to some villages. Coastal villagers were warned early to move to safer areas and there have been no immediate reports of casualties other than two injured residents.
In eastern Catanduanes province, a man drowned after being swept by strong river currents and a farmer died after his head hit the ground in fierce wind, provincial safety officer Gerry Beo said, adding that three fishermen have not returned home from a fishing expedition and were reported missing.
Another death related to the typhoon was being checked in nearby Camarines Sur province, officials said.
A month's worth of rain poured Friday as the typhoon approached from the Pacific, swelling rivers and creeks and flooding low-lying farming villages, Beo said, adding that most towns in the island province of about 260,000 people have no electricity and spotty communications.
In Bataan province, 50 mountaineers were forced to descend from Mount Tarak in stormy weather, but 36 others remained stranded in the uplands, according to police and firefighters who were trying to rescue them. In the northern mountain province of Benguet, 16 mountaineers were stranded in Mount Pulag and forest rangers were enroute to rescue them, officials said.
About 200 domestic and international flights have been canceled and thousands of passengers stranded in seaports after inter-island ferries were ordered not to venture out in rough seas.
About 20 typhoons and storms lash the Philippines each year, adding to the many burdens in a country that's also threatened by earthquakes and volcanic eruptions. The latest typhoon, Sarika, was named after a singing bird in Cambodia.
Story: Jim Gomez