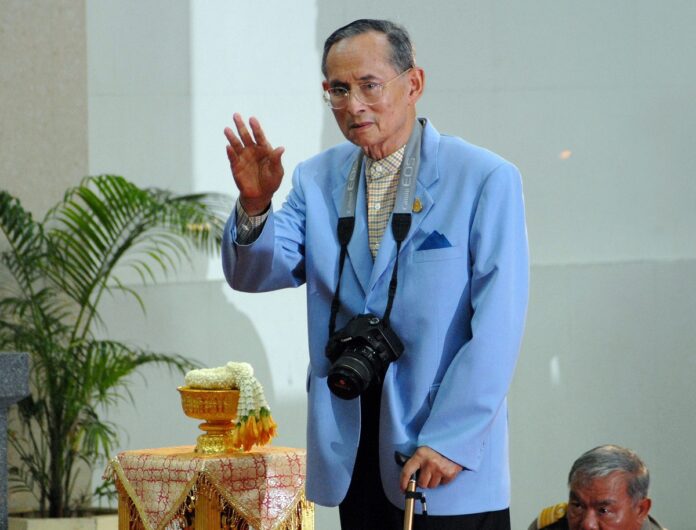 BANGKOK — King Bhumibol Adulyadej, an obscure princeling born afar who became patriarch of Thailand, died Thursday in Bangkok at 88, ending his unprecedented reign of 70 years.
Years of poor health during which His Majesty was mostly confined to Siriraj Hospital, away from the eyes of a public which kept looking for him to be a unifying figure in his riven kingdom, ended at 3:52pm, according to a statement by the Royal Household Bureau. It did not specify a cause of death.
"Although the team of doctors have provided close care and treatment to their utmost ability, his illness did not subside and only worsened," the statement said.
Bhumibol, whose reign began in 1946 as the ninth in his dynasty, had not been seen publicly in 10 months. The deterioration of his health in recent years had been a source of prolonged anxiety for a nation where he was widely revered as demigod.
For much of the past year, his illness grew worse with frequent reports he was suffering from failing organs and excessive fluid in his brain. His condition appeared to deteriorate sharply on Oct. 9, following a hemodialysis procedure to cleanse his blood.
News of his condition brought crowds of people to assemble outside the hospital to pray for his recovery. News of his death Thursday night was met with sobbing, silence and singing. Many continued singing Sansoen Phra Barami, the well-known royal anthem.
"I no longer want to do anything else in my life. I didn't prepare for this," Malee Siriphan, 51, Bangkok, said through her tears. "He wasn't even 90 years old."
She said she could not accept his death.
"I will sit right here until he walks down," she said.
On Wednesday evening, the King's children including Crown Prince Vajiralongkorn, who flew back from Munich, converged on the hospital for several hours.
Bhumibol passed away in the year Thailand marked the 70th anniversary of his ascension to the throne. No other king in Thai history ruled so long, and up until his death, Bhumibol was considered the world's longest-reigning monarch among his contemporaries.
Bhumibol, who's also known as Rama IX of House Chakri, is survived by his 84-year-old wife, Queen Sirikit, and his four children: Ubolratana Rajakanya, Sirindhorn, Chulabhorn Walailak and Crown Prince Vajiralongkorn, to whom the throne is set to pass.
Born in the United States in 1927 to a little-known nobleman, Bhumibol evolved from the younger years as a secluded, Western-educated, jazz-loving college boy in Switzerland to a reluctant king in Thailand where a democratic revolution decades earlier stripped the monarchy of its traditional glory.
The Cold War later turned him into an adept politician who survived numerous coups and Communist insurgency before he attained the deification as the saintly father figure in his later years.
One biographer called him the king who never smiled, in reference to the quest of national salvation Bhumibol believed he was undertaking, which made him come across as a stern leader with rare displays of emotion.
In a rare, English-language interview with the BBC in 1980, King Bhumibol was asked if he was lonely while he was working hard in the countryside for his people.
"That is a question that can be answered in many ways. I am not lonely and I have work to do, so I have to do work," Bhumibol said.
News of Bhumibol's passing reached newsrooms across the country through unofficial palace channels at around 2pm, and words of his death soon spread to social media, but the palace only confirmed the news at 6:50pm.
His death followed a long period of silence from Bhumibol – the late king last appeared publicly Dec. 14 – and increasing anxiety among his royal subjects, few of whom have known any other king.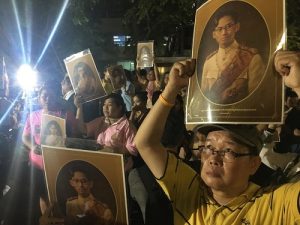 Nation in Mourning
In the later years of Bhumibol's reign, discussion of the monarchy went from a sensitive subject to outright taboo. Royal defamation is a crime, and since seizing power in 2014, the military has prosecuted it broadly and aggressively.
Thailand is little prepared for the momentous implications of His Majesty's passing, as there was no public discussion of the imminent event for fear of prosecution by the authorities.
'I no longer want to do anything else in my life. I didn't prepare for this' – Malee Siriphan, 51
What is known is that the nation is expected to mourn his passing for months to come, with entertainment and other important events postponed or canceled altogether. Per tradition, he will lie in state in an urn-shaped coffin at the Grand Palace, where prayers will be recited day and night.
After a long period of lying in state, King Bhumibol will be transported in an elaborate procession to the historic Royal Cremation Field, or Sanam Luang, for funerary rites.
Additional reporting and photos Chayanit Itthipongmaetee, Sasiwan Mokkhasen, Todd Ruiz
Related stories:
HM King's Illness Won't Affect Charter Endorsement: Gov't
Netizens Flood Social Media With Pink and Yellow
Somkid: Hunt Person Behind Royal Health Scare
Outpouring of Prayer, Anxiety About Future at Siriraj Hospital
No Emergency Cabinet Meeting Today, Gov't Spokesman Says
In Pink and Yellow, People Unite at Siriraj to Wish the King Well (Photos)
Prayuth Calls for Year of Mourning for King
Crown Prince Vajiralongkorn Proclaimed King Rama X
Grief Pours Out Home and Abroad for Death of King Bhumibol
Mourners Remain at Siriraj, Some Hope For Miracle (Photos)