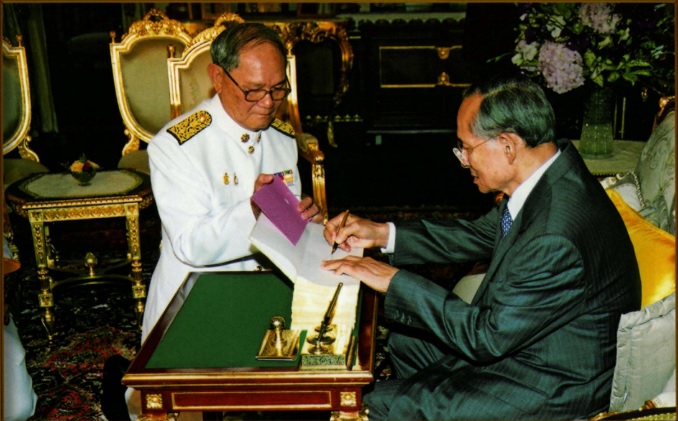 BANGKOK — A government spokesman said Thursday he's hoping that His Majesty the King would have recovered from his chronic illness by the time the new constitution is ready for official promulgation.
The confidence was voiced in spite of a palace statement saying doctors at Siriraj Hospital had advised King Bhumibol, 88, to refrain from any royal works due to a number of illnesses besetting him. The latest update on his health Wednesday night said the monarch's condition was still unstable.
Read: Royal Children Gather at Siriraj Hospital, Prayuth Cancels Events
"We can wait for His Majesty to recover first," said Amorn Wanichwiwatana, spokesman of the constitution drafting committee, Thursday by telephone. "By that time, we hope, he would have recovered."
"It won't affect the process," he added.
According to the junta's roadmap for the return to a democratic regime, the new charter, which was approved by a landslide vote in an August referendum, would have to be formally endorsed by the King in November. A general election is expected to be held late next year.
Deputy Prime Minister Wissanu Kreangam told reporters Wednesday the government hopes to submit the constitution to HM King on Nov. 9.
Constitutional law requires the King to endorse the document within 30 days after it is submitted to him, Wissanu said.
The Nov. 9 date is feasible, Amorn said. Government scribes need about a month to manually write the constitution on traditional Thai manuscripts known as samut thai anyway, he said.
"It will take us a month, because we need to write three copies of samut thai," Amorn said.
The palace said in a statement Wednesday night that King Bhumibol's liver showed abnormal signs, and that his condition remained unstable. The king has spent much of the last seven years at Siriraj Hospital.
Related stories:
Netizens Flood Social Media With Pink and Yellow
Somkid: Hunt Person Behind Royal Health Scare
Outpouring of Prayer, Anxiety About Future at Siriraj Hospital
No Emergency Cabinet Meeting Today, Gov't Spokesman Says
In Pink and Yellow, People Unite at Siriraj to Wish the King Well (Photos)
King Bhumibol, Monarch and Father to Millions, 88
Prayuth Calls for Year of Mourning for King
Crown Prince Vajiralongkorn Proclaimed King Rama X
Grief Pours Out Home and Abroad for Death of King Bhumibol
Mourners Remain at Siriraj, Some Hope For Miracle (Photos)