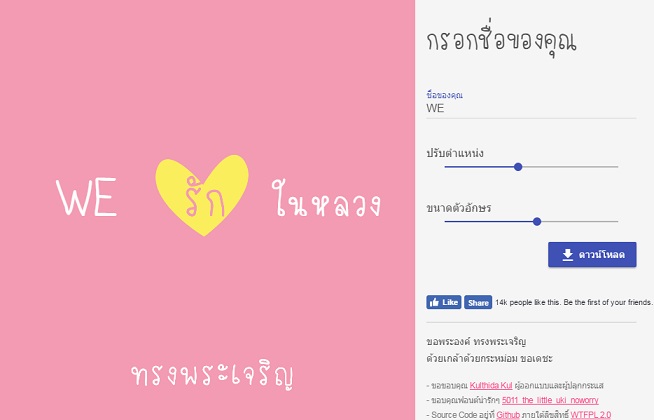 BANGKOK — Thais were flooding social media with an outpouring of love and concern Thursday for HM King after news of his health condition reached the general public.
Many users showed digital tributes by changing their profile pictures to a personalized pink-and-yellow image in which a name could be added before a sentence reading "love the King, long live the King."
The profile picture maker, designed by Facebook user Kulthida Rotchanawit, mushroomed in use by many Thais – including Princess Ubolratana and celebrity Araya Alberta "Chompoo" Hargate.
Yellow is considered to be HM King Bhumibol's color, since he was born on a Monday. In Thai culture days of the week are each assigned a special color.
Pink is considered to be an astrologically auspicious color for the King and his health. On occasions in which he exited the hospital, he has often been photographed wearing pink.
Nitis Pokavattana, 22, a graduate from Mahidol University's Faculty of Science, changed his profile picture to show his love.
"When I heard last night that [the King]'s health was in an unstable condition, I decided to change my profile picture to show that I love the King. I felt concerned, and still do today," he said. "A lot of my friends on my newsfeed changed their profile pictures too. Others uploaded pictures of the king on their wall."
The number one trending Twitter hashtag since yesterday has been #WeLoveTheKing, written in Thai.
https://twitter.com/aimemdiary/status/786447657359159296
https://twitter.com/shsseoxx/status/786447557929017344
#LongLiveTheKing praying for my Thai friends and their beloved King

— Laura Peters (@laurapeters24) October 13, 2016
https://twitter.com/ChalisaPantha/status/786456333813821440
https://twitter.com/CurtisSChin/status/786458652882247680
Related stories:
HM King's Illness Won't Affect Charter Endorsement: Gov't
Somkid: Hunt Person Behind Royal Health Scare
Outpouring of Prayer, Anxiety About Future at Siriraj Hospital
No Emergency Cabinet Meeting Today, Gov't Spokesman Says
In Pink and Yellow, People Unite at Siriraj to Wish the King Well (Photos)
King Bhumibol, Monarch and Father to Millions, 88
Prayuth Calls for Year of Mourning for King
Crown Prince Vajiralongkorn Proclaimed King Rama X
Grief Pours Out Home and Abroad for Death of King Bhumibol
Mourners Remain at Siriraj, Some Hope For Miracle (Photos)