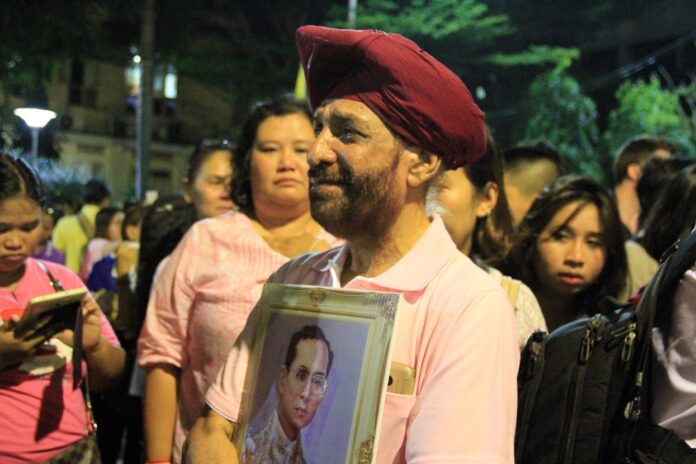 The death of King Bhumibol Aduladej on Thursday let loose an outpouring of grief throughout the nation. Thailand faces a situation unprecedented in the country's modern history, and an uncertain future, as few people have known a life without the widely revered monarch.
Here's what is being said online as people react to the news of his death at 88.
Read: King Bhumibol, Monarch and Father to Millions, 88
"The day that all Thais don't want to think or even hear about has arrived. The palace has officially announced that HM the King has passed away at Siriraj Hospital. This loss is the most tragic event in the lives of all Thais," junta leader Gen. Prayuth Chan-ocha, who has urged people to mourn for a period of one year.
"The American people and I stand with the people of Thailand as we mourn His Majesty the King's passing, and today we hold the Thai people in our thoughts and prayers." – U.S. President Barack Obama
"The name Bhumibol Adulyadej will be associated with a significant period in the recent history of Thailand marked by great achievements in the economic sphere and the strengthening of the Kingdom's international position." –Russian President Vladimir Putin
British Ambassador Brian Davidson:
Deeply saddened to hear of death of His Majesty. He will be sorely missed within and outside Thailand. I offer our heartfelt condolences.

— Brian Davidson (@brijdavidson) October 13, 2016
"The Swiss people had the privilege of hosting King Bhumibol in Lausanne, Switzerland, between 1933 and 1951. We feel deep sympathy and will always remember King Bhumibol and his affection for Switzerland with much appreciation." – Swiss Ambassador Ivo Sieber
Najib Razak, prime minister of Malaysia:
My heartfelt condolences to the Royal Family and people of Thailand on the passing of His Majesty King Bhumibol Adulyadej.

— Mohd Najib Tun Razak (@NajibRazak) October 13, 2016
Singapore Ministry of Foreign Affairs:
Singapore conveys our deepest condolences to #Thailand on the passing of His Majesty King Bhumibol Adulyadej https://t.co/tUftTyWJi1 pic.twitter.com/0nV6KaW0wc

— MFAsg (@MFAsg) October 13, 2016
U.S. Ambassador Glyn Davies changed his profile to all black. His last tweet earlier Thursday:
All of us at U.S. Mission Thailand join the Thai people in sending fervent best wishes for His Majesty the King's swift recovery. pic.twitter.com/nNiORRc5gO

— Glyn T. Davies (@GlynTDavies) October 13, 2016

"I hereby pay my homage to His Majesty the Great King Bhumibol Adulyadej. My thoughts are with the unceasing royal mercy he had bestowed upon us." – Abhisit Vejjajiva, Democrat Party leader
"As he ascends to heaven, my thoughts are with his unceasing royal mercy and I express my condolences for His Majesty King Bhumibol Adulyadej." – Yingluck Shinawatra, former prime minister
"I pay homage to the feet of His Majesty the Great King Bhumibol Adulyadej as my thoughts are with is endless royal mercy."  – Thaksin Shinawatra, former prime minister
"I prostrate at your feet as you ascend to heaven. May I be the servant underneath your feet in all future lives." – Suthep Thaugsuban, former leader of the People's Committee for Absolute Democracy With the King as Head of Stat
"It's really a strange feeling to be observing this from Paris. … Still, love is something that you can't force people to feel." – Somsak Jeamteerasakul, exiled royal critic and academic, who took to Facebook Live to speculate on the future and advise people not to share rumors over Line.
Related stories:
HM King's Illness Won't Affect Charter Endorsement: Gov't
Netizens Flood Social Media With Pink and Yellow
Somkid: Hunt Person Behind Royal Health Scare
Outpouring of Prayer, Anxiety About Future at Siriraj Hospital
No Emergency Cabinet Meeting Today, Gov't Spokesman Says
In Pink and Yellow, People Unite at Siriraj to Wish the King Well (Photos)
King Bhumibol, Monarch and Father to Millions, 88
Prayuth Calls for Year of Mourning for King
Crown Prince Vajiralongkorn Proclaimed King Rama X
Mourners Remain at Siriraj, Some Hope For Miracle (Photos)
Crown Prince Not Ready to Take Throne Yet, Prayuth Says