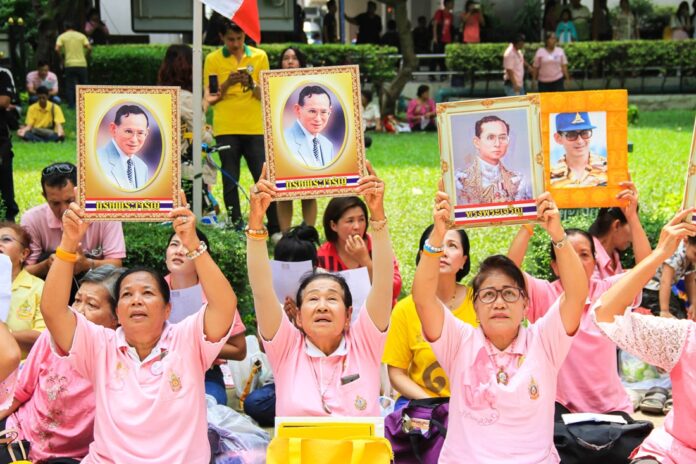 BANGKOK — The government Thursday ordered a hunt for the person they said spread false rumors about His Majesty the King's health condition which coincided with declines on the stock market.
Deputy Prime Minister Somkid Jatusripitak blamed rumors for the losses and urged the public to be confident in the national economy and not fall prey to any rumors. Somkid said although all Thais were concerned about the health of King Bhumibol, they should only listen to official statements from the government. Somkid said there are people who were exploiting the rumors for financial gain.
Royal Children Gather at Siriraj Hospital, Prayuth Cancels Events
The move came one day after Prime Minister Prayuth canceled his travels to meet the Crown Prince upon arrival back in Thailand. Prince Vajiralongkorn joined his siblings at Siriraj Hospital where His Majesty has been hospitalized for most of the past seven years.
The markets had been trading down since Monday after the palace issued a statement that the king's health could not be stabilized, a condition unchanged in a similar notice published Wednesday evening.
The Stock Exchange of Thailand dropped 2.5 percent Wednesday to close at 1,406. By Thursday afternoon, it was down another 2 percent, posting losses of another 29 points.
Related stories:
HM King's Illness Won't Affect Charter Endorsement: Gov't
Netizens Flood Social Media With Pink and Yellow
Outpouring of Prayer, Anxiety About Future at Siriraj Hospital
No Emergency Cabinet Meeting Today, Gov't Spokesman Says
In Pink and Yellow, People Unite at Siriraj to Wish the King Well (Photos)
King Bhumibol, Monarch and Father to Millions, 88
Prayuth Calls for Year of Mourning for King
Crown Prince Vajiralongkorn Proclaimed King Rama X
Grief Pours Out Home and Abroad for Death of King Bhumibol
Mourners Remain at Siriraj, Some Hope For Miracle (Photos)