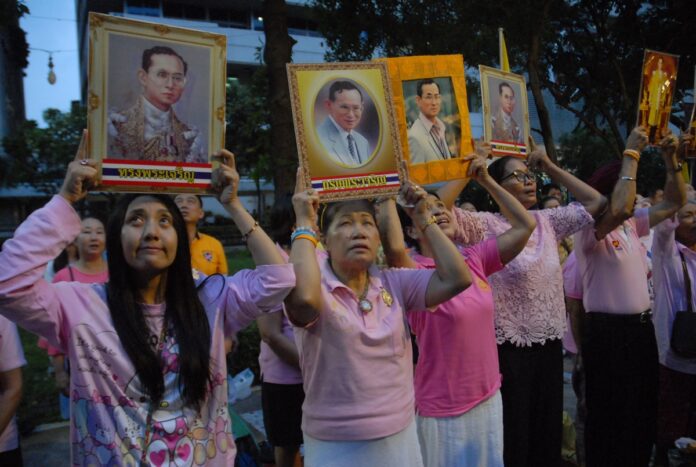 BANGKOK — Crown Prince Vajiralongkorn and his sisters visited the hospital Wednesday afternoon where His Majesty King Bhumibol is being treated while Prime Minister Prayuth Chan-ocha rushed back to the capital, where anxiety mounted about the monarch's health.
His Royal Highness Vajiralongkorn went to Siriraj Hospital after arriving in Bangkok from Munich earlier in the day. A large crowd has been growing at the hospital to pray for the speedy recovery of His Majesty the King, whose health has worsened, according to information released Sunday by the palace.
His royal motorcade arrived just after 5pm, two hours after Princess Chulabhorn and about 20 minutes after Princess Ubolratana arrived to visit their father. The road outside the hospital was closed just before the arrival of Princess Sirindhorn at 6:22pm.
Before 8pm, members of the royal family appeared to have left in motorcades from the hospital. A statement was issued by the palace shortly after 8pm saying the King had a blood infection and liver problems. It said he was being closely monitored and his condition remained unstable for a fifth day.
Junta chairman Prayuth Chan-ocha canceled a state visit in Chonburi province, as well as a scheduled visit to Rayong province and flew back to Bangkok by helicopter, reportedly to greet the prince.
Read: Mass Prayers, Online Best Wishes for HM King
Meanwhile crowds were swelling outside Siriraj Hospital, where many joined mass Buddhist prayers for the king's health to improve.
The outpouring of concern and support for the 88-year-old monarch followed an update on King Bhumibol's frail health on Sunday. The palace statement said the king was in an unstable condition with low blood pressure after being treated with hemodialysis and brain fluid removal a day earlier.
King Bhumibol has spent much of the past seven years at Siriraj Hospital. His delicate health is a cause of concern for many Thais, who see him as the spiritual leader of the nation.
There were some expectations online that the junta chairman would address the nation in a televised address at 4pm, but Prayuth's secretary Wilas Aroonsri said there was no plans for such.
Additional reporting Sasiwan Mokkhasen from Siriraj Hospital
Related stories: