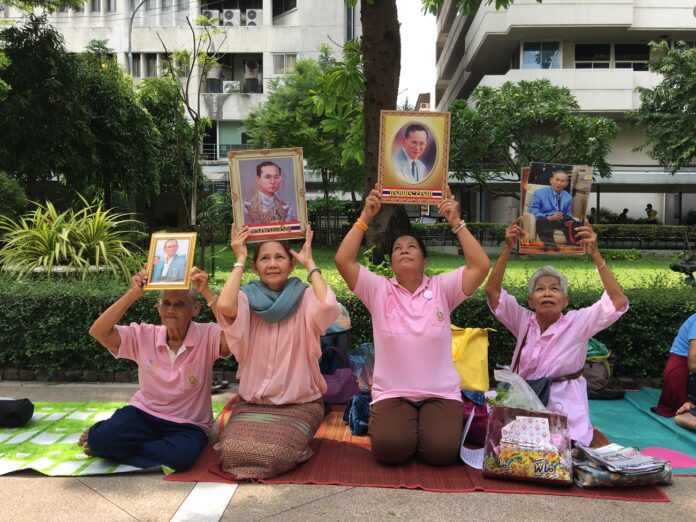 BANGKOK — At least two royal events were indefinitely postponed Wednesday while crowds of well-wishers continued to arrive at the hospital where His Majesty the King is being treated for his illness.
Crown Prince Vajiralongkorn and Princess Chulabhorn canceled their appearances at a graduation and a royal decoration ceremony respectively, respectively, according to statements posted online by their organizers.
Read: Mass Prayers, Online Best Wishes for HM King
The Crown Prince was scheduled to preside over the graduation of Chiang Mai Rajabhat University on Oct. 27 – 30, while his sister Her Royal Highness Chulabhorn was set to impart two classes of royal orders at Chitlada Palace on Oct. 13 – 14.
Their cancellations were posted online Wednesday by Chiang Mai Rajabhat University and the Bureau of Royal Scribes. No reason was given for either cancellation.
Online flight records showed Wednesday that His Royal Highness Vajiralongkorn flew to Bangkok from the German city of Munich, where he frequently visits.
Meanwhile, hundreds of people gathered at Siriraj Hospital to pray for King Bhumibol, who's being treated there for a number of illnesses including, most recently, acute kidney failure.
In the latest statement published on Sunday, the palace said the king's blood pressure was low after going through a hemodialysis and brain fluid removal operation a day earlier. The statement ended by noting that the monarch's condition was still unstable at the time it was published.
King Bhumibol has spent much of the last seven years at Siriraj Hospital. His delicate health is a cause of concern for many Thais, who see him as the spiritual leader of the nation.
Related stories: