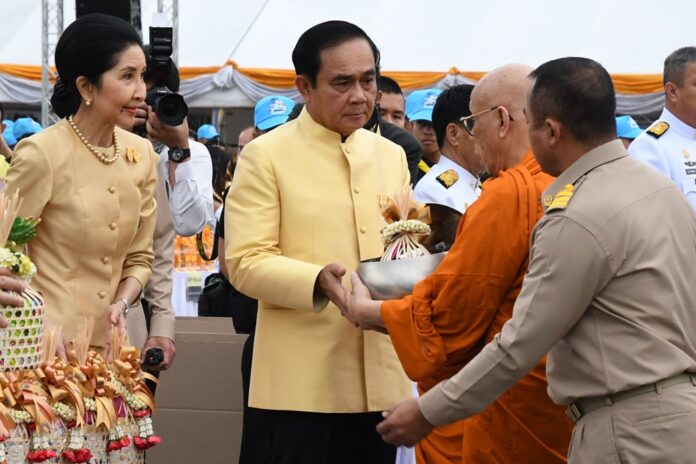 BANGKOK — National Day was being marked Tuesday with a series of religious rites dedicated to His Majesty the Late King Bhumibol, six decades after it was moved to fall on his birthday.
In lieu of the usual pomp, parades and fireworks that awe the public and tourists, prayers and monk alms-giving ceremonies were staged nationwide in memory of the late monarch, who died in October 2016.
Junta chairman Prayuth Chan-ocha hosted a religious ceremony in the Royal Plaza this morning on behalf of the military government. Gen. Prayuth was joined by his cabinet, junta officials, interim parliament members and commanders of the armed forces. Similar ceremonies were held in each province.
The current monarch, King Vajiralongkorn, is scheduled to attend a Buddhist ritual for his late father later this evening.
Charity was also the theme of this year's celebration. Food donated to monks in Buddhist ceremonies would go to flood victims, officials said. Volunteer groups across the country also mobilized to do civic work today such as cleaning streets, clearing rubbish from canals and planting trees.
The only festivities expected for Tuesday were canceled. Rock star Toon Bodyslam was initially set to resume his charity run through Bangkok downtown today, giving chance for the throngs of his admirers to catch glimpse of him. His organizers postponed the event to Wednesday, citing doctor's orders.
Thailand's National Day was originally observed on June 24, the date of a revolt that ended the direct royal rule. The date was changed to Dec. 5, the birthday of then-King Bhumibol, under a royalist military regime in 1960.
After King Bhumibol died last year, the future of National Day was briefly uncertain. But King Vajiralongkorn in January not only affirmed Dec. 5 would remain the holiday, he also formally designated it National Father's Day. A separate cabinet resolution declared it a public holiday.