By Teeranai Charuvastra, Sasiwan Mokkhasen and Pravit Rojanaphruk
Additional writing and reporting Asaree Thaitrakulpanich Chayanit Itthipongmaetee and Todd Ruiz
BANGKOK — For much of its history, the field in front of the spectacular Grand Palace has sat empty. Commoners mostly use it as a park, flying the kites it has become associated with.
Thais know it by the modern, innocuous-sounding name of Sanam Luang, or Royal Field, but its official English name retains its true meaning: the Royal Cremation Ground. For centuries its grassy expanse has stood as a mortal reminder to the rulers in the palace next door: memento mori.
On Thursday, the Sanam Luang hosted its most-watched funeral ever. King Bhumibol, or Rama IX, the most revered monarch in modern Thai history, who died at 88 in October 2016, was cremated some time between 10pm and 10:30pm in an ancient ritual after nearly a year of preparation.
Read in-depth coverage: Royal Funeral For #KingBhumibol Live Blog
In Buddhist tradition, the cremation is a final farewell to the dead. Hence, for many Thais, the flames ignited Thursday night symbolized the true end of his reign, which spanned seven decades, and heralded a new era of royal rule under his appointed heir, King Vajiralongkorn, or Rama X.
"I'm here to say farewell to him, to show my love for him," said Suthida Ketthong, who took time off from her work to volunteer and sleep rough at Sanam Luang for past two days. "This is the last chance in my life to do it, so I'm giving my best."
On Friday, the palace said 157,000 people were in and around the Sanam Luang for the ceremony.
Despite meticulous planning and stagecraft, the rites fell more than an hour behind schedule and millions of viewers watching the only video stream allowed were denied a final farewell when the actual cremation was unexpectedly cut from the broadcast at the last minute.
With great pomp, Thursday began with a long, slow-moving procession transporting the royal urn to the crematorium in the Sanam Luang, though the king's remains had apparently been moved Wednesday night in a secret rite. The head of the ruling junta and military government, Gen. Prayuth Chan-ocha, was among hundreds of uniformed marchers.
By 2:30pm, the urn had been raised by a series of mechanical lifts to its place atop the pyre. King Rama X was observing from a pavilion directly west of the structure before departing by vehicle just before 3pm.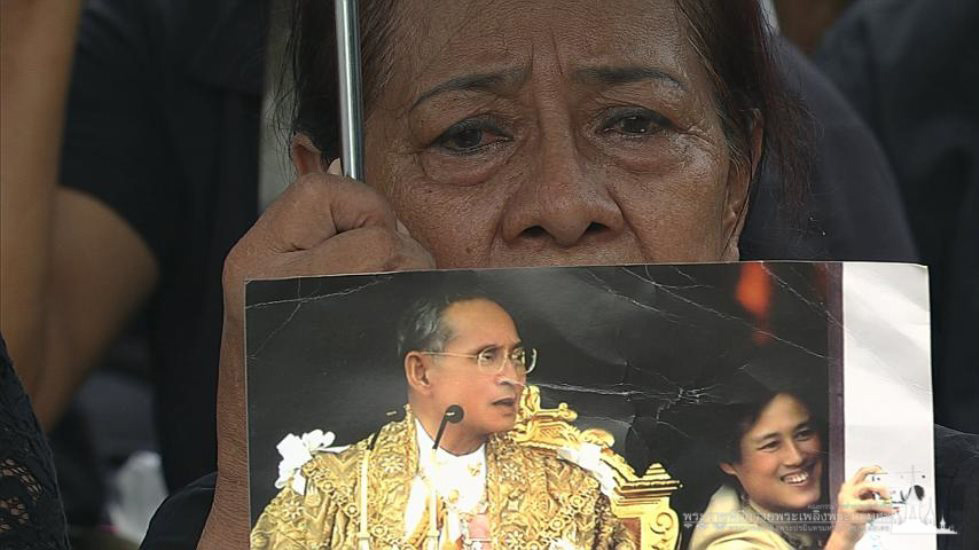 Show of Unity
What was a day of sorrow for the tens of thousands of mourners gathered to bid farewell to to the late king was also a day of pride for those who helped make the massive ceremony happen.
Terms like "once in a life time" and "part of a history" were heard time and again.
"This is the proudest moment of my life," Sgt. Watcharapong Chumnigul, an army musician who played anthems for today's funerary rites, said during a break. "I am here to represent my family."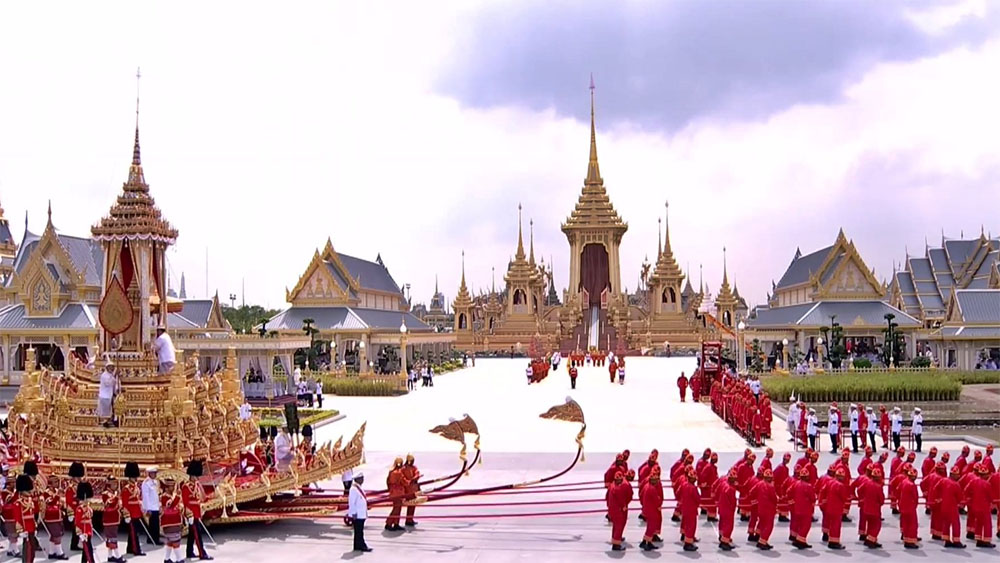 The atmosphere has mixed respectful silence during major ceremonial moments – such as the moment arrival of the urn – and casual relaxation. Volunteers and medics took care of spectators by handing out food, water and smelling salts to lessen the effects of the searing heat glaring down on them most of the day.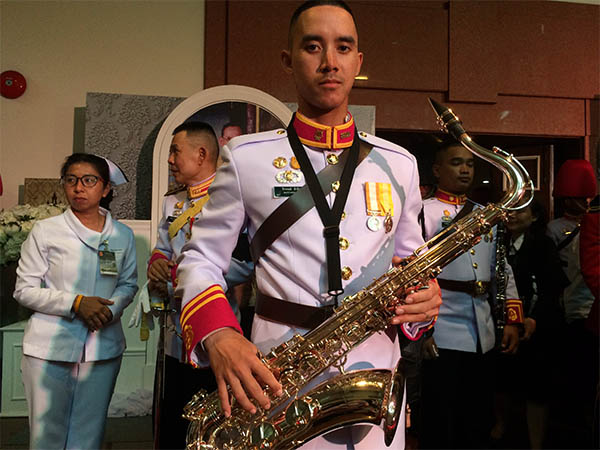 The ceremony was rigorously choreographed – not just for the troops marching in the funerary procession, but for mourners and the press.
A strict dress code and ban on any colorful items were imposed. Selfie sticks were banned. The crowds had been warned to refrain from playful behavior or giggling. An army of volunteers and security forces spread around the site to look for any inappropriate behavior.
Great care went into producing a singular image of national unity and discipline through a spectacle that was often visually stunning. The media was not allowed to livestream its own footage within the cordoned-off ceremony area and instead had to run government-supplied footage.
Looming over the Sanam Luang's field was the 50-meter-high meru, or funeral pyre complex, and its surrounding structures, each decorated in ornate traditional craftsmanship and ancient symbolism.
Absent from the public eye throughout the ceremony was King Bhumibol's wife of 66 years, Queen Sirikit. Her Majesty has been ill and made few public appearances in recent years.
A Day of Silence

Thirteen kilometers away, stillness had fallen on the usually lively streets that are the capital's beating heart. On Thursday, the real heart of the nation was not at Siam or Thonglor when all roads led to the Sanam Luang.
Rama I Road from Phloen Chit to Chit Lom was a ghost town with all businesses, shopping malls and ubiquitous 7-Eleven stores closed. No workers were toiling at construction sites. At 2:30pm, the road was blocked more than an hour for foreign dignitaries traveling to join the symbolic cremation. Gawking at them from the sides of the road were mostly tourists.
But in part of the Siam area, Rama I Road was far from desolate. From CentralWorld to Siam Paragon, thousands of black-clad mourners queued for hours to pay their last respects to King Bhumibol by offering flowers. Some tourists joined in the line for the experience.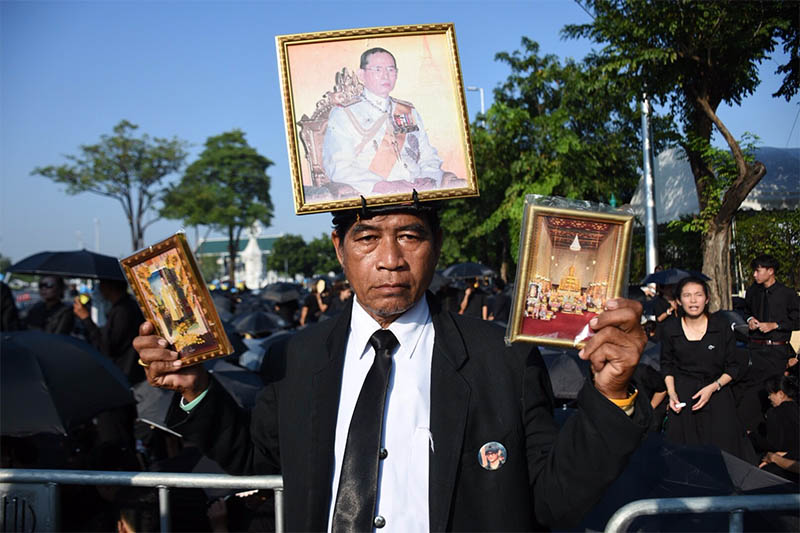 "This is kind of a once-in-a-lifetime experience, so we want to see it from Thailand's citizens' point of view," said American tourist Mary Beth Coleman. "In my lifetime, I don't think I have ever seen the entire country remember one person in such a unified way."
Those who could not go to the Sanam Luang had such places nationwide to personally offer sandalwood flowers, which were burned as part of the royal cremation. They resembled daffodils, reportedly the king's favorite flower when he was in Switzerland. The wood's fragrance is said to lead the souls of the dead to heaven; the ashes were scattered Friday morning in waterways throughout the realm.
In a symbolic gesture of national unity, the flames that lit the real cremation pyre as well as the replicas nationwide shared the same source. They were all lit by the hand of King Vajiralongkorn one week prior.
In other areas of the town, the atmosphere was gloomy. All outdoor screens, even commercial displays like those at BTS Skytrain stations, showed only the same official live broadcast. People, even most tourists, wore all black. Playing everywhere were songs either composed by King Bhumibol or dedicated to him. Entertainment areas such as Soi Cowboy went dark for three days. In landmark areas such as Victory Monument, volunteers offered free rides to the ceremony area as well as free food and drinks.
Watch: Enter the Crematorium of King Rama IX (360 Video)
Night Falls and Crematorium Glimmers
King Rama X was tardy returning in the late afternoon from his palace respite as princes, premiers and dignitaries from more than 40 nations arrived for the mock cremation, which did not occur until nearly an hour and a half after it was scheduled.
Those mourners with eyes on the crematorium were the dedicated – and lucky ones. Most had camped for days, huddling from rain storms and searing sunshine for coveted spots around the Sanam Luang and a hard-fought, front-row seat to the historic end of a reign.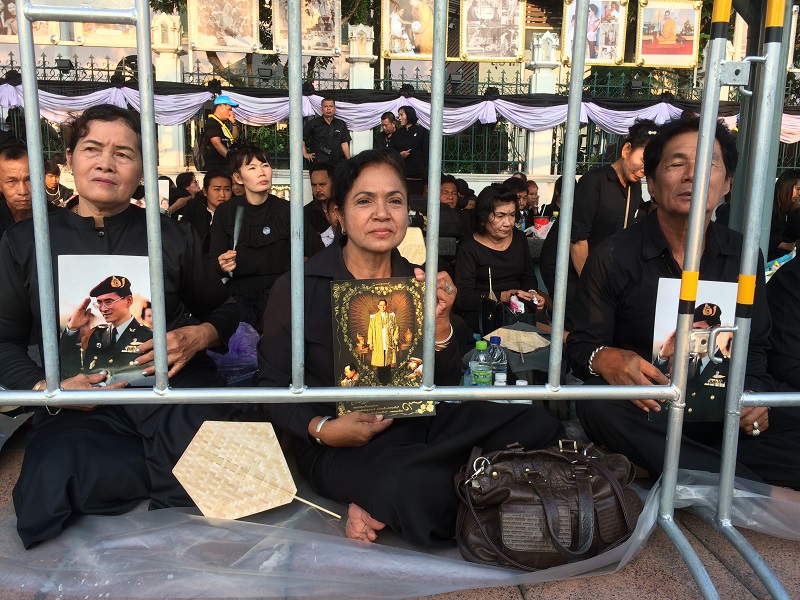 But when the clock struck 10pm – the appointed time of the most-anticipated ritual, the actual cremation of King Bhumibol – state television broadcasts abruptly ended. The coverage was replaced with a message reading "Royal Cremation of His Majesty King Bhumibol. Everyone is advised to turn toward the Meru Mas and pay their highest respects."
At the same time, the traditional masked Khon dance playing before the funerary complex was suspended for half an hour. At the same time, prayers were heard chanted from the pyre. But no announcement or explanation was made, leaving the crowd of mourners confused.
When rumor spread the cremation would not be broadcast at all, reporters rushed to the Sanam Luang where officials said the flames had already been lit. On three stages erected on the northern part of the field, theatrical performances were staged and other acts of entertainment marked the end of the ceremony.
At 11pm, a palace statement confirmed that King Vajiralongkorn had presided over the cremation of his father half an hour earlier.
Asked why the cremation had not been televised, an official wearing an official ID of His Majesty's household staff just smiled and said, "I don't know."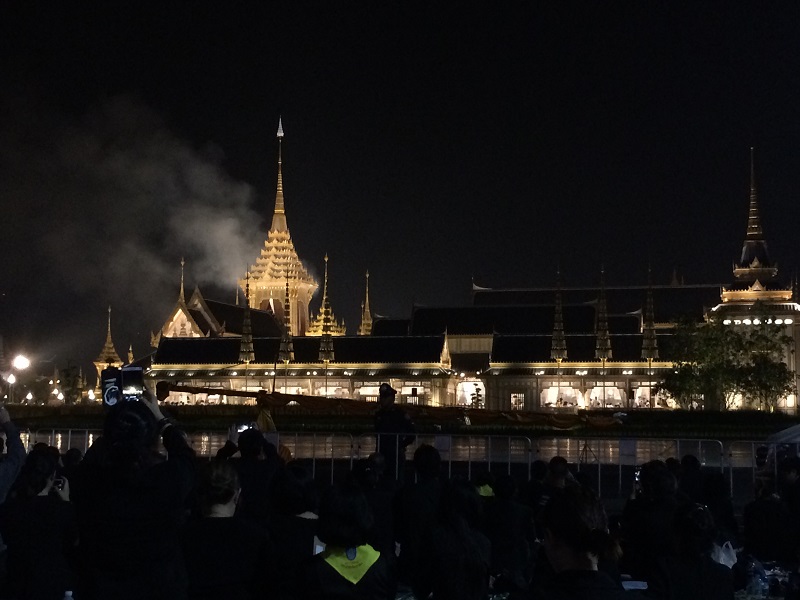 White Smoke
At about 11:25pm, a plume of white smoke became visible above the Meru Mas, convincing those present the cremation was over. Shouts and gasps went up. Mourners fell to their knees, their hands clasped in prayer. Many were sobbing, but their cries were drowned out by the cacophony of music playing in the background.
For thousands who could not access the Sanam Luang, Ratchadamnoen Avenue was the closest they could get. Many had traveled hundreds of kilometers from across the nation, camping out overnight in hope of witnessing the actual cremation via large video screens while also being physically near to it.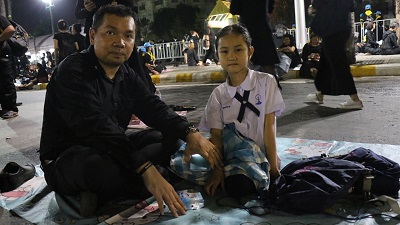 But an hour after the scheduled time had passed, there was no official announcement on why the screens continued to show an orchestra play instead of the cremation ceremony. The reluctant crowd did not show much sorrow or disappointment, but said they were unsure whether they should leave.
Until a royal fire was lit at the replica crematorium on Ratchadamnoen Avenue at about 11pm to burn sandalwood flowers, some people were convinced the cremation already happened off-camera. Smoke could later been seen around the top of crematorium from there, and a lot of people decided to leave. However, some refused to believe this and remained.
"I don't know what they all say, but the actual cremation has to happen per tradition," said Torpong Soonthornvipas, who vowed to remain until morning with his 7-year-old daughter.
'King of Kings'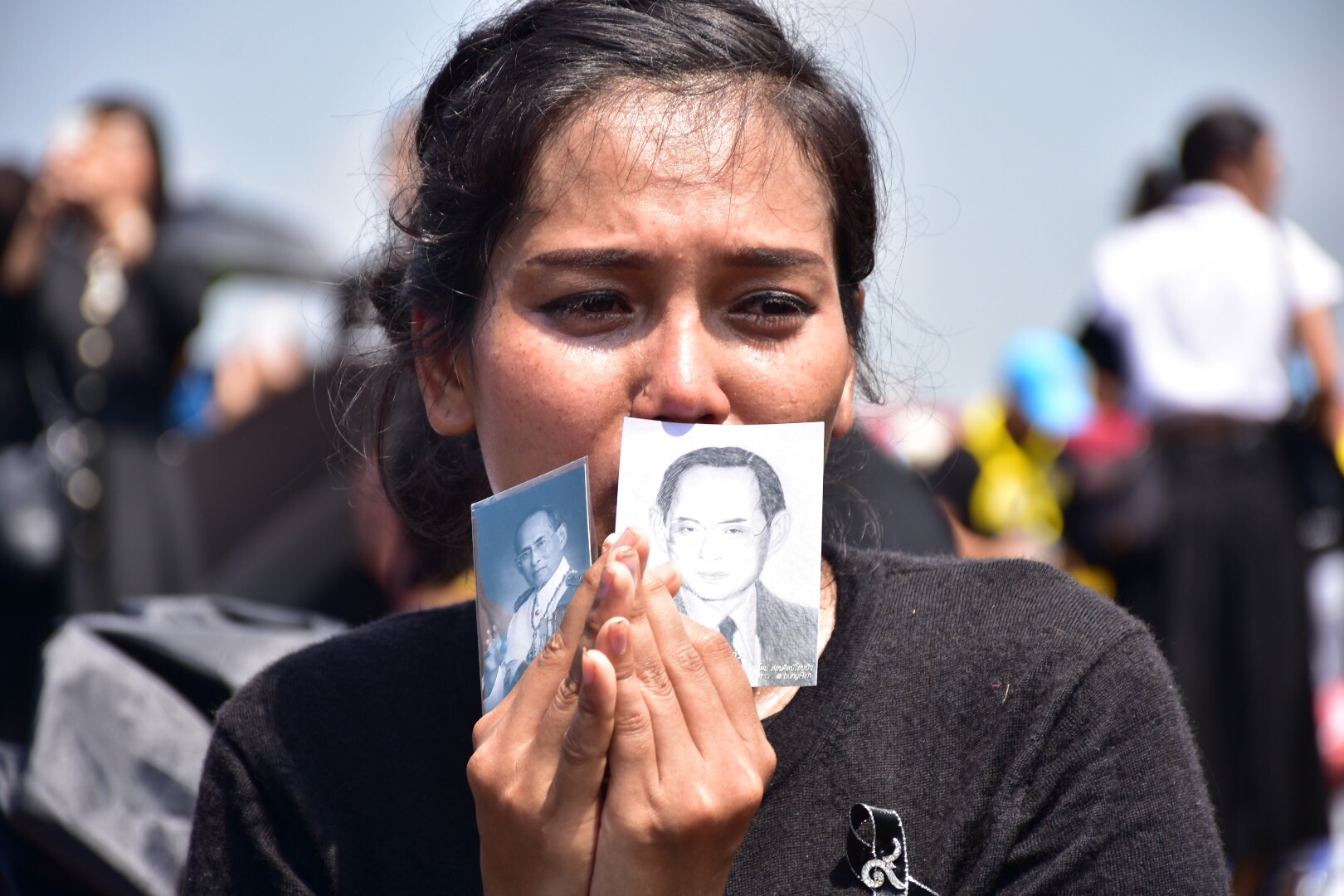 Both admirers and critics acknowledge King Bhumibol as one of the most influential leaders in Thailand, if not Southeast Asia. Born in the United States in 1927 as an obscure princeling, Bhumibol would later become a king who transformed not only Thai political ecology but the regional balance of power during the Cold War.
While his elder brother, Ananda, ruled the country as the young King Rama VIII, Bhumibol grew up in Switzerland where he cultivated a love for jazz, skiing and racing. After Rama VIII was shot dead under mysterious circumstances in the bedroom of his palace in 1946, the throne passed on to Bhumibol, who was later crowned Rama IX.
He also inherited a royal family stripped of much of its former glory in the wake of the 1932 revolution, which ended absolute monarchy. But under Bhumibol, and aided by well-read court advisers and royalist generals, the institution saw a revival in terms of power and popularity.
Military coups in 1947, 1967 and 1968 gradually restored traditional influence to the monarchy. King Bhumibol started touring the country to visit his royal subjects and initiated infrastructure projects to improve their livelihoods, the images of which immortalized the monarch.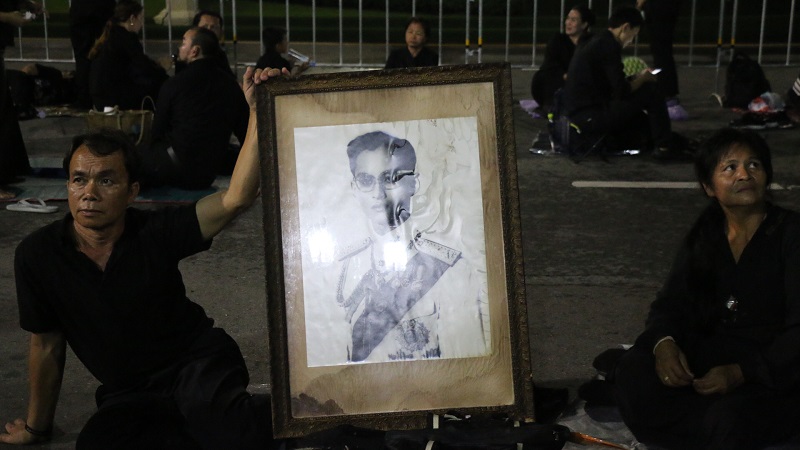 Abolished rituals were revived, including the act of groveling with the forehead touching the ground to pay respect to the king.
His charisma helped. One biographer called him the king who never smiled, in reference to the quest of national salvation King Bhumibol believed he was undertaking, which made him come across as a stern leader with rare displays of emotion.
Under military autocrat Sarit Thanarat, a close aide to King Bhumibol, Thailand also sided decisively with the United States and joined its crusade against Communism in the region. In their book "A History of Thailand," writers Chris Baker and Pasuk Phongpaichit noted a symbiosis among the two sides.
"Sarit and the USA oversaw a revival of the monarchy following its partial eclipse since 1932," Baker and Pasuk wrote, "Both the generals and their US patrons believed the monarchy would serve as a focus of unity, and a force for stability, while remaining susceptible to their control."
Since he ascended the throne 70 years ago, King Bhumibol has evolved to be a fatherly and saintly figure whose popularity was undimmed throughout the tumultuous cycles of coups, uprisings and crackdowns.
When Thailand entered an era of democratic parliamentary government, the monarch was seen as "above politics," meaning he hovers above the bickering and conflicts, only intervening and providing wisdom when the nation needs him.
There were tragedies during his reign, such as a 1976 massacre of students by security forces and paramilitaries. A pivotal moment came in May 1992 when the king prevented further bloodshed by summoning leaders of an ongoing political feud – military ruler Suchinda Kraprayoon and opposition leader Chamlong Srimuang – after 52 people were killed soldiers in a crackdown on street protests.
Television footage of the meeting shows King Bhumibol asking the two sides to make amends, in the same manner that a father would chide his offspring. Gen. Suchinda later resigned, but not before granting himself amnesty.
"When people act in violence, they forget themselves. In the end, they don't know why they were fighting in the first place. Then how can they hope to solve any problem?" the king said. "What use is a pride of being a victor when they stand on the ruins of destruction?"
King Bhumibol later receded from the scene in the last decade of his life, beset by a growing number of illnesses. He was largely confined to Siriraj Hospital, at a time of unprecedented political conflict that split the country into two factions of Redshirts and Yellowshirts. Many looked for his guidance in vain.
On Oct. 13, 2016, in the year the country marked the 70th anniversary of his reign, King Bhumibol Adulyadej died at 88.
To millions of Thais, Bhumibol was the "Father of the Nation," a tireless ruler who brought tremendous development to the country, and a divine being. He is remembered for 4,000 plus royal projects that helped alleviate hardship in rural areas, and an endless reservoir of royal teachings replayed and repeated on a daily basis on radio.
The admiration for the late monarch is genuine, but it was cultivated before a backdrop of repression. Any act deemed negative to the monarchy is not only taboo, but illegal. A royal defamation law, known as lese majeste, carries a maximum penalty of 15 years in jail, per offense. Trials are generally held in secret.
As the cremation took place Thursday, some were still behind bars awaiting trial or serving sentences for defaming the late king, and will continue to be jailed long after the ceremony is over. 
A New Chapter
As a result, those with critical views of the monarchy practice self-censorship, and conversations about what might come after the cremation flame is lit tonight can only take place in private. Just on the eve of Thursday's ceremony, soldiers took an activist into custody for pledging to wear red in public.
King Vajiralongkorn, 65, is now the de facto monarch, but royal tradition means he had to wait until after the cremation to be coronated. With that now completed, his reign will begin in earnest.
Unlike his predecessor, King Vajiralongkorn is rarely seen in public. In fact, he has spent much of his time abroad for the past year. The media is careful in covering the new monarch, as an official biography of His Majesty is yet to be released by the palace.
Now that the long rites of royal cremation are over, Thailand will begin a new and uncertain chapter in its history.