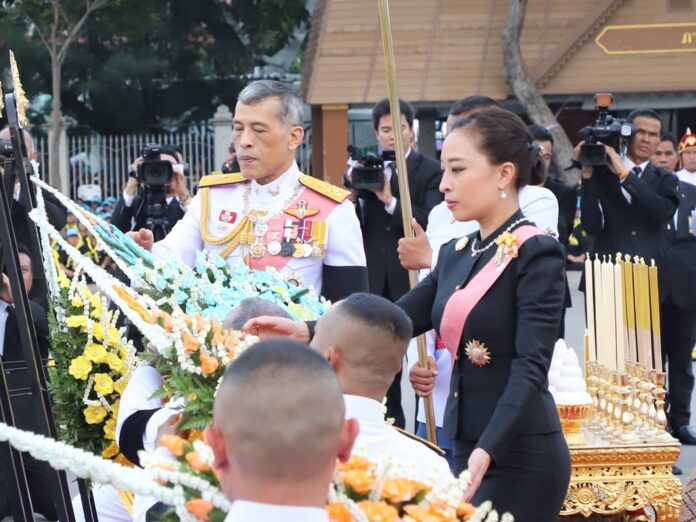 BANGKOK — King Vajiralongkorn has urged the authorities to make sure their regulations for viewing the cremation of his father are not too strict, a government spokesman said Sunday.
The king's statement comes as officials are tightening already stringent security measures limiting public access to the event and rules for the historic ceremony set to take place Thursday.
Virtual Thailand: Enter the Crematorium of King Rama IX
The monarch said the authorities should ensure those restrictions are not so strict they made the public "uncomfortable," government spokesman Lt. Gen. Sansern Kaewkamnerd said Sunday
King Vajiralongkorn, who inherited the throne after his father King Bhumibol died in October 2016, also asked authorities to open more space to the public at the funerary grounds of Sanam Luang so that they can witness the ceremony, Sansern said.
Bangkok police commander Chanthep Sesawech said he had not personally received any directives from the king, but added that police are already opening more spaces. Mourners can now stake out spots along the northern walls of the Grand Palace, Chanthep said.
"The Bangkok Metropolitan Police's task is to take care of the people who are gathering at Sanam Luang in all aspects, from traffic to their wellbeing," the lieutenant general said.
In recent days, additional rules have been issued banning colorful umbrellas, eyeglasses and hand fans. Selfie sticks are prohibited outright. Mourners are also discouraged from shouting "Long Live the King!" as the procession passes.
On Sunday, officials added one more item to the list of banned accessories: colorful phone cases. The public is advised to only bring somber ones.
Mourners are welcome to view the elaborate funerary procession, which has not taken place since 1950 after the previous monarch died, but they are subject to a long list of rules and dress codes. For instance, women will be required to wear skirts that cover their knees and up. Sleeveless dresses and tight clothing are not allowed.
Related stories: